THIRTY DAYS, THIRTY YEARS, THIRTY BORING STORIES...
My Tenth Year (9 years old)
October 2nd, 1983, to October 1st, 1984
Please do not be offended at the following story. I do not want to trivialize anything that happened to some of my classmates, but I will give my own experience as I remember it before providing context.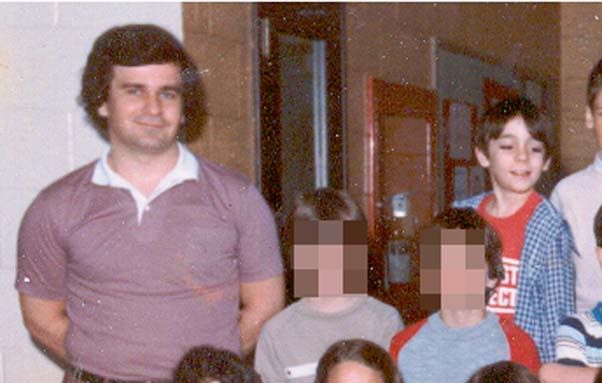 My Third grade teacher was Mr. Wadsworth, and the year I had him was the best year for me in elementary school. Mr. Wadsworth didn't want to be too formal and stuffy and told us to call him "Dave" so that we would look to him as more of a friend than as a teacher. He liked to play the guitar a lot, teaching us to sing songs like "Moonshadow", "Bad, Bad, Leroy Brown", "Farewell to Nova Scotia", and "One Tin Soldier". We had weekly spelling tests, and, if we got three or four in a row "perfect", he would give us a Canadian silver dollar. In one corner of the classroom, he had a fascinating menagerie of creatures like a large snapping turtle and one of those "Siamese fighting fish", which he'd told us was so fierce that it could jump from aquarium to aquarium and even crawl on the floor a little just to snack on other fish. He took us on frequent field trips, to places like the Dow Planetarium, and he would buy us Dunkin' Donuts and McDonald's, and he'd frequently show us movies like
Marlo Thomas's Free To Be You and Me
, teaching gender freedom. And one time we went camping in the soccer fields. He also had a great sense of humour and would sometimes play songs like "Weird Al" Yankovic's "Eat It". I hardly have a bad memory of Mr. Wadsworth myself; as far as I can recall, the worst thing that happened was that he spoke to me because some Indian kid named "Jabeer" or something said that I had called him "Jabba the Hutt" on the schoolbus, but I didn't even know who that kid was, so he had me confused with someone else. I think I excelled academically when I was with Mr. Wadsworth; I remember writing one story about Lassie that went on for at least ten pages, and I remember that I was at the top level of those SRA reading program cards we used. Another time, I had come back from Swim/Gym (which I will talk about later), which took me out of class weekly for about 2 hours, and Mr. Wadsworth had written H
2
0 on the board and was asking people what it was, and I was the only person who knew it meant "water". If you ask me my opinion of Mr. Wadsworth based solely on my memories, I would have said he was a terrific teacher, because I had a blast in his class.
Unfortunately, David Wadsworth was also an active pedophile, arrested in 2000, after which some of his victims from my school came forth with more accusations, to which he
pled guilty
for molesting eight students (and, in 2002, admittted to assaulting another
thirteen students
). He was sentenced to
five years in jail
, but was released last year, I think to a halfway house of some sort, and he was looking for a job as an accountant. I can't find much about the case on the Internet, but there is
this one English-language page on an anti-spanking site
that goes into some detail. I would never accuse school officials at my school of being inactive, but I do get the idea that a couple of teachers had some supsicions about Wadsworth but couldn't prove anything. Most notably, I remember once, my grade 5 teacher, Mr. Drury, addressed the class, in English (I was in French immersion, so this was unusual), saying that, if we had any problems we couldn't tell anyone else about, we should write them down on a paper and hand it to him. I didn't know what to make of that at the time, but, in retrospect, it would make perfect sense that he asked us to do that because he wanted proof to be able to get the police to investigate Wadsworth, if that's why he was asking us to do that.
Anyway, I don't know who his victims were in my grade and I'm not going to wag my finger at him because it has already been four years since the truth became public and I simply don't think that I could write a condemnation of him now without it coming across as trite. I can't forgive him because he never did anything bad to me so I'm not really in a position to offer (or deny) forgiveness to him in the first place. All I can really say now is that I think it's unfortunate that my own positive memories of Mr. Wadsworth do not jive with the reality several of my classmates were experiencing at the time and leave it at that.
Another thing about the academic year was that, as a kid with poor coordination, I was sent to Swim/Gym, which was cool because I got to miss two hours of class a week, but I was so ahead of my classmates academically at the time that it didn't hurt me one bit. It was over at John Abbott College's Casgrain Building, where they have both the huge gym and the swimming pool, and, in retrospect, was probably the "lab" portion of a course designed to teach athletic therapy. I don't remember much about the "gym" portion of the programme, other than that one of the other kids there was Michael M., the mentally-retarded kid from my kindergarten, but I remember the "swim" part very well, because, no matter how much I tried, I never could actually make my body float without the assistance of "water wings" or other floatation devices. That's probably why I wouldn't make a good flight attendant. Also, after the swim, we were to get changes in the Casgrain locker room, and I always kept my swimming trunks on and changed in a toilet stall, but I do remember all the naked college students walking around and being fascinated by how "big" they were compared to me. Also, there was a sauna room that I would sit in for a few minutes, even if it did reek of stale chlorine inside.
In my personal life, one day in October 1983, we were driving east along Highway 20, and, in a long-gone vacant lot just before Baie d'Urfé shopping centre and the intersection with Morgan road, we saw a dog wandering in a ditch. She was a very mixed-breed dog that was obviously mainly terrier but I think her colouring was closer to that of a German Shepherd. We took her home and dried her off and I think we put an ad somewhere for a "lost dog" since I remember one person coming to our house, but she was in tears because that wasn't her dog. So, even though we already had Penny Pooch, we kept her and named her "Lucky", since she wasn't killed by the traffic on the 20 (the main highway between Montreal and Toronto; it becomes the 401 in Ontario). Also dog-related, Penny had her first litter of 6 puppies in February 1984, and we gave them all away through ads. My mother thinks, or thought, that one of the people who took advantage of our free puppy offer was
Elizabeth Manley
, who won the silver medal for figure skating at the 1988 Winter Olympics in Calgary, but, in retrospect, it was probably just a girl who looked somewhat similar, since 4 years between seeing the girl once and seeing Elizabeth Manley at the Olympics is still a sizable period of time.
In December 1983, about a week before Christmas, there was an ice-storm or something like that, and the power, in Pincourt at least, was out for three days, but I don't think it was nearly as cold outside as it was in January 1998, when Montreal got the mother of all ice-storms and our power was out for almost a week.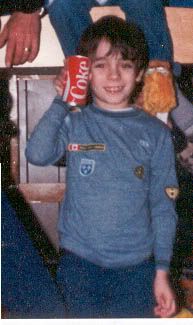 In the autumn of 1983, I also became a Cub Scout, and, that academic year, I went to both Winter Cub Camp, at
Camp Kinkora
, where I was on a team that won a silver in a toboggan race (that particular weekend had a "Winter Olympics" theme, since the Olympics were concurrently being held in pre-war Sarajevo), and Summer Cub Camp, at
Camp Tamaracouta
, where we slept in tents the first night, but it was raining so hard that we slept in a cabin the other night. Gee, we had fun being "lost" in the woods in the pouring rain, though I think the troop leaders were pulling our legs and knew exactly where we were. I don't know why, in that photo (which I cropped to avoid getting in trouble with Alan M., who is in an amusing pose with our "Akela"), I felt the need to endorse Coca-Cola or why I got someone to hold my Garfield doll behind me. Yeah, I was into
Garfield
big-time by then, thanks to both the collections of strips and to the prime-time animated specials featuring the voice of the late Lorenzo Music.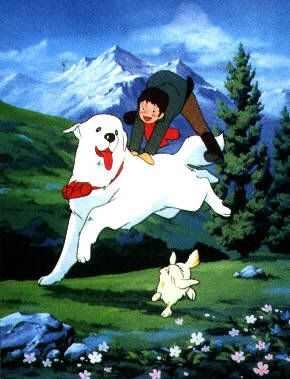 Other TV shows I was into, besides those I mentioned in previous entries: this was the season that I first got into
Family Ties
, and, no, I wouldn't say that Alex P. Keaton, the Michael J. Fox character, is the primary reason I am a rare Canadian who supports the Republicans now, but, certainly, he set the foundation as to get me to think of the Republican Party in a more positive way than most Canadians do (even if I didn't quite realize he was meant to be satirical; it was still more even-handed a portrayal than most straw-man "Republicans" you see on TV shows nowadays). I also do remember watching such X-Entertainment.com-reader favourites as
Saturday Supercade
, the show with the
Frogger
,
Donkey Kong
(with the first animated appearance of Mario),
Q-Bert
, and
Donkey Kong Jr.
animated shorts, the
Space Ace
cartoon,
Rubik the Amazing Cube
, and
The Littles
(which, thanks to
The Incredible World of DiC
, you can watch several episodes of online
at Yahooligans TV
). I also liked... well, at least watched (since it was puzzling and I didn't know what to make of it)
Dr. Snuggles
, which
I discussed back in February
. And, for people tracing the origins of my anime fandom, this was the year that Videotron finally got TV Ontario, so I watched
Polka-Dot Door
(which, at 9 years of age, I was *already* much too old for, but I watched it to make fun of it),
Today's Special
,
Kidsbeat
, the news show for kids which showed short clips from music videos, which, in the days shortly before MuchMusic arrived on the scene, was how I knew which songs were popular (like
Peter Schilling
's "Major Tom (Coming Home)"), aaaaaaaaaannnnnnnndddddddddd... the cartoon
Belle and Sebastian
, about a boy in the Pyrenees searching for his mother with the help of a huge white dog, which was actually an English re-dub of
Belle et Sebastien
from French-language public TV, which, in turn, was a localized version of the Japanese anime series
Meiken Jolie
, which was an animated retelling of the
1960s French Belle et Sebastien TV series
, based on the series of books from French actress and writer
Cécile Aubry
. Since the cartoon was about France, it was another cartoon that I didn't realize was actually Japanese.
Another toy and cartoon franchise which hit North America in a big was in 1984 was
The Transformers
, which ties into the next story just a little bit.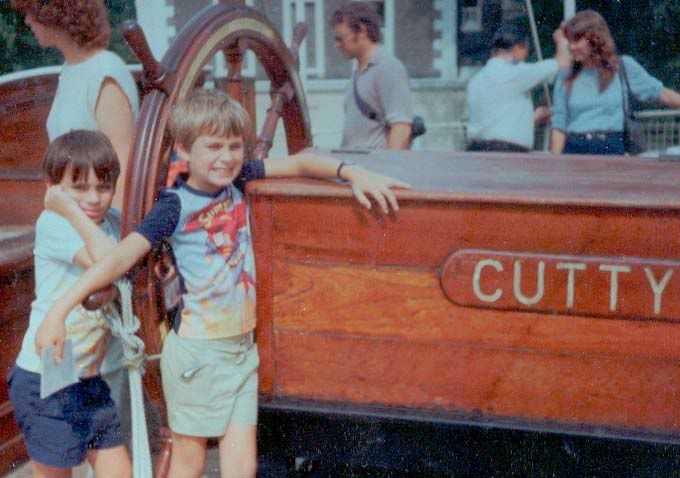 In the summer of 1984, my brother Nick and I went back to England for three weeks, while my parents and the two youngest siblings went to Toronto). We flew on British Airways Lockheed L-1011 TriStar's both ways, from Mirabel (CYMX) to Heathrow (EGLL) and back, and stayed with our grandmother and Uncle George in
Wimbledon
,
Merton
,
London
, the first week, then went up to
Northampton
to stay with my Uncle Jim and Aunt Celia, then up north all of the way to
Guisborough
, in the Borough of Redcar and Cleveland near
Middlesbrough
, to stay with my Uncle Peter and Aunt Janet for a few more days, and, finally, we went south to
Canterbury
in Kent to stay with my grandfather, Charlie Rimmington, who had a big black dog. I forget everything we did, but, in London, we went to the London Zoo, where my most distinct memory is that they now had Slush Puppies in England, the
Natural History Museum
, the
Victoria and Albert Museum
,
Tower Bridge
, a Thames River cruise, Greenwich Observatory, the
Cutty Sark
, and possibly the
London Transport museum
and
the Tower of London
. In Northampton, I remember going Sunday shopping at the open-air market near Grosvenor Centre, and we went to some sort of county fair with a yelling drunk guy angry at me and Nick for being "foreigners" (even though we were born in Britain). We also took a sidetrip to
Warwick Castle
. I remember that we bought a mechanical bird thing that actually "flew", I remember waking up "late" one morning, and my cousin Andrew welcomed me back to the world of the living, and I remember playing
Jet Set Willy
and
Valhalla
on the
Sinclair ZX Spectrum
system (yeah, the graphics are fairly primitive, but they were miles above the quality of the
Commodore Vic-20
my father had bought us the previous spring... wow,
Radar Rat Race
and
Lunar Leeper
, except those are the Commodore-64 versions in the links, not the Vic-20 versions which were even more primitive... well, now I don't have to do a paragraph about that). And we went to a restaurant called Huckleberry's Hamburgers that tasted exactly like McDonald's. I don't remember much about Guisborough... except that I had a dream in Guisborough when I went to a WH Smith store, and some "Men in Black" type government spooks took me round back and talked to me about things and then made me forget what happened, and, for years, I was wondering if it was a dream or real, perhaps something to do with my UFO experience in 1981, but, the next time I travelled to Guisborough 13 years later in 1997, I found out that there was no WH Smith store in the town, so it could only have been a dream. (It was a lot less "real" than my UFO memory anyway.) In Canterbury, we visited
Canterbury Cathedral
, and the huge open-air shopping district around the cathedral, and we took a sidetrip to
Portsmouth
to visit the
H.M.S. Victory
and my great-uncle, the painter
Eric Rimmington
. Also, my grandfather wanted to take us to some fish-and-chips place, but we insisted on McDonald's... though I still love McDonald's today, I kind of regret doing that since my grandfather died in 1987 and I never got another chance. (Though McDonald's UK was offering banana milkshakes back then, which were damn good.)
How does this story all tie-in to
Transformers
? Two ways; first, it was my brother, Nick's, 8th birthday was while we were there, so my mother packed some presents including the Decepticon leader,
Megatron
, which was a
rather detailed model of a Walther P-38 complete with silencer and scope
. But our luggage went through a security check without incident... I don't know if they just missed that or whether they could easily tell that it was just a toy. Also, my mother gave me either $30 Canadian or £30, with which I was supposed to buy souvenirs, but I skimped on the souvenirs, and, when I got back home, I went to Wise and bought myself the Decepticon
Soundwave
, the tape-recorder with the mini-cassette-robots, Rumble and Buzzsaw. I was a bit disappointed to find that it didn't actually work as a tape recorder, but, still, it was a cool toy.
One other lame story related to my England trip was that my mother gave me some gum and licorice for the flight to England, except I somehow assumed I was meant to spread it out over the course of the entire three weeks, as though there wasn't any candy in the candy-loving country of England, so I just took nibbles at a time.
My tenth year was defninitely the most eventful year of my childhood, and this may be the longest entry, at least until that other year I hinted about in the introduction.
My favourite movie released between October 2nd, 1983, and October 1st, 1984?
Hot damn, 1984 was packed with films I like!
You have James Cameron's Tech-Noir classic,
The Terminator
(which, obviously, I didn't see for several years after it was released), Ivan Reitman and Harold Ramis's
Ghostbusters
, one of the all-time great comedies when Bill Murray gives the performance for which I think he will be remembered the most, Dr. Peter Venkman, Wes Craven's original
A Nightmare on Elm Street
film, a truly great horror movie full of dark comedy (by the way, I still got to get around to reviewing
Freddy vs. Ghostbusters
sometime), Joe Dante and Steven Spielberg's
Gremlins
, which is another dark comedy (but a cute and fuzzy one too, which they made kiddy storybooks out of, even if several people died in grisly-but-amusing ways) and it takes place at Christmas, which is always a plus for me, Steven Spielberg and George Lucas's
Indiana Jones and the Temple of Doom
, which, while even I admit that it is the weakest of the original three
Indiana Jones
films, is still a lot of exciting, silly, sometimes ghoulish fun, and which provided lots of footage used in the imagination scenes of
Muppet Babies
, which was, in turn, based on a sequence from
The Muppets Take Manhattan
, another decent 1984 film (of course, they started
Muppet Babies
well before
The Muppet Takes Manhattan
was released, so the baby sequence in the film is almost certainly a commercial for the then-upcoming animated series).
1984 was a landmark year for anime too, with Hayao Miyazaki's
Nausicaa of the Valley of the Wind
, which was so popular it was what led to the creation of
Studio Ghibli
in the first place, and Haruhiko Mikimoto's big-budget, beautifully-animated
Macross: Do You Remember Love
, which is an alternate retelling of the events of the
SDF Macross
series (a.k.a. "Rick Hunter"
Robotech
) which has been explained as what it would be like if they made a movie about those events within the
Macross
universe, they get the major facts straight but fudge a lot of the small details. (Annoyingly,
Macross: DYRL
has yet to be released properly in North America, even 20 years after it was released in Japan, because of various rights issues.)
But which film do I like more than any of those? I pretty much said it in the previous installment, didn't I?
Urusei Yatsura: Beautiful Dreamer
is still my favourite Japanese anime film, where Mamoru Oshii, whose work is often so deep that it's pretentious and largely inaccessible to a casual viewer, lets his imagination run free, but, since it's based on an existing series, Oshii's pretentious excesses are kept in check by being forced into a framework where the story still has to be fairly accessible to the average
Urusei Yatsura
viewer, so, in some ways, he has to make compromises to fit in the pre-established characters into his framework where life is indeed a dream and time is meaningless. Also, he wanted to focus this story on the human characters and not the aliens except for Lum (and her cousin Jariten/Ten-chan), since the fanboys would have revolted if she wasn't present, so it's an entirely different take on the show than in most
Urusei Yatsura
episodes.
I have a half-written review based on the new
Urusei Yatsura: Beautiful Dreamer
"Collector's Edition" DVD which I fully intend on finishing "sometime", but, until then, you can always read
my review from almost 5 years ago
.
Also, the autumn of 1993 was when we got our first VCR, and, for the first couple of years, we rented from this really crooked place called "Tri-Ade Video", that bought one copy of a movie and rented out copies of it. I did always find it a little suspicious that the movies I rented usually had a couple of seconds of WPTZ-5 (NBC) logo right at the beginning, like they were taping over stuff they taped off television, or just that was the channel they were usually on just before they began "dubbing". They got closed down by the cops after a couple of years.