THIRTY DAYS, THIRTY YEARS, THIRTY BORING STORIES...
My Fifteenth Year (14 years old)
October 2nd, 1988, to October 1st, 1989
This one will probably be a lot shorter than the previous few, as I can't think of as much that I want to say this time around.
This wasn't my first year IN high school, but it was my first year AT high school, if that makes any sense to you at all. Macdonald High School in Sainte Anne de Bellevue, on the western tip of Montreal island, just across the Galipeaut bridge from Ile Perrot island, to be exact. A little under 3 kilometres from my house in Pincourt.
Now that I'm discussing high school, I'll address some teachers by their surname if I have positive memories of them and if I think they were good teachers, but, others, if I'm not sure I want them seeing what I'll write about them, even well over a decade after I had to deal with any of them, I'll either use initials or even nicknames. However, if you're a current Macdonald High School student who found this blog using Google, please feel free to speculate amongst yourselves who these teachers are, and tell your friends to read this. Some of them might still be around, teaching the same classes; I did only graduate twelve years ago last June. For one teacher, where I don't know all the facts as to an alleged incident, I will write about later, I will have to use an initial anyway, as I don't want to be facing a libel suit.
On either the first day or at some point in the first week, we had orientation, but, unlike some American high schools, no hypnotist show. I think we had activities where we had to work together to build up teamwork, yay! I probably had to be put into a group by a teacher or orchestrator, not really being cut out for that sort of activity. The amusing part of this sub story was that we closed out the activities by learning the Mac High school cheer, though I can't for the life of me give you even some faint idea as to how it went because, after orientation, I never used it again or was at any sort of activity where it was used, and, while I, unfortunately, got more apathetic as high school went on, it's not like I never went to any sort of activities where the school cheer could have been used, just no one ever used it.
Back in grade seven, Mr. Giroux thought I would be better off in the English stream at Mac, rather than in the French immersion stream, and, although it made me feel a little like a failure, I didn't contest it. Probably, he knew what he was doing, but, on the other hand, I can't help but feel that I might be a lot more confident with my French ability today if I had been forced to use it more in high school, and maybe I wouldn't have become such an underachiever today if I had been forced to work just that little bit harder. On the other hand, I might have indeed found learning everything else in high school level French much too difficult for me and flamed out spectacularly and have been forced to repeat grade eight a second year. That's the problem with second-guessing, you only live once, so you can never really be sure what the alternate outcome would have been. Just, if I had been in French immersion, I might have gotten to know "her" a little earlier than I actually did. And who is "her"? Just a little foreshadowing...
My homeroom and English teacher was Ms. MacKinnon, a kindly youngish woman of Scottish origin who had very pale blonde hair with who we read stories like
The Red Pony
,
A Day No Pigs Would Die
, possibly
Cue for Treason
,
Flowers for Algernon
, and, if I remember correctly, a bunch of those depressing sci-fi short stories from the 1950s and 1960s where the plot twist was always that there is no human left (the one with the self-cleaning house) or no *other* human left (the one where the teacher is teaching an unseen class, unaware that she was resurrected by aliens) because humanity destroyed itself in a nuclear war. I wrote several good stories there, including one set 500 years in the future where my distant descendants still live in the same house I do in Pincourt, except it's much larger because of extensions built over the years (I guess they bought out the entire neighbourhood around the house and demolished it) and, one day, they found a long-sealed storage room (the little space under the stairs in the basement of our bungalow) and found the Noma artifical Christmas tree which we used up to and including Christmas 1996. In my first draft, I had them sell it as an ancient antique for a shitload of money, however, my peer critics thought the ending was much too materialistic (whoopie-freakin-doo), so I felt obliged to change it to one where they decided to continue using the Christmas tree as a Brandon family tradition. I think I got the best grade in the class on the Christmas English exam, but, now that grades don't matter, I almost feel like going back to Macdonald High, seeing if they still have a copy of that, typing it out here, and restoring my wonderful, original ending where they buy lots of stuff. It's my original "vision", damnit!
I was in advanced math, and my teacher was Mr. Chee, who was somewhat strict, but fair, and a good teacher overall, even if, a couple of times, he tried to intimidate us by telling us, "I am tiger!" (yes, without an article).
Ms. D. was our Home Economics teacher, who had some sound but some wacky urban legend ideas about nutrition, like how the chocolate in chocolate milk leeches out all the calcium, making chocolate milk unhealthy. (Not true, unless you're a PETA wacko, in which case you think ALL milk is unhealthy.) We did cooking and we did sewing, and my mother didn't care much for the sewing part because we had to buy a crapload of supplies for an activity I did once. ($20, in 1988 Canadian dollars, for pinking shears? But they're just scissors with a jagged edge!) And the pair of shorts I made were simply unwearable. In the second half of the school year, I had science with... umm... some guy I forget. I remember keeping a cloud journal and this one project where I drew a crappy-looking comic wherein Spider-Man discussed the exciting topic of "sedementation and decantation" as a method to remove stuff from liquid. Actually, I drew several assignments as comics that year; one of them was with me and Freddy Krueger, but, for the life of me, I don't remember what the assignment was actually "for". In another one, I had characters from several different syndicated comic strips, including
Peanuts
,
For Better or For Worse
, and
Bloom County
, re-enacting the tale of The Good Samaritan. I had drama with Ms. Burr, but I don't remember too much about that year (I took sort of the same class with the same teacher later on in high school).
My French teacher was Mr. Busbib, who was a nice guy but a few years away from retiring and by no means at the top of his game. His curriculum consisted largely of us reading abridged versions of
Georges Simenon's Maigret mysteries
and he taught us a few songs, like
"Fais Comme l'Oiseau"
(roughly: "Live like a bird", more literally: "Do things like a bird"). Oh yeah, we did write essays; I remember getting indignant at Canadian sprinter Ben Johnson for getting stripped of his Olympic gold medal at the 1988 Summer Games in Seoul because he tested positive for steroids, and, you know, "good" 14 year old kids frown on all drug use without seeing any nuances, because "Drugs are bad, mmkay." (These days, my opinion on performance-enhancing drugs at the Olympics is leaning more towards: "Meh, level the playing field, let everyone use them.") Also, he wore the same green Macdonald High sweater-blazer thingie every day, though I'd imagine he had more than one.
My history and Moral and Religious Education teacher was Ms. R., who was nice enough, but I'm initializing her name because I always thought she bore a stunning resemblance to
Lady Elaine Fairchilde
, the puppet who lived in the Merry-Go-Round in the
"Neighbourhood of Make-Believe"
on
Mr. Rogers' Neighbourhood
. (No, I never checked to see if she had her own "Boomerang Toomerang Soomerang".) We watched
Spartacus
, and I did the Good Samaritan comic I mentioned earlier for her; I also did another one with the Mighty Thor talking about Greek Gods (yes, even though Thor is a Norse God... he can still know about Greek Gods). I did a presentation on Greek Gods in front of the class with just a piece of chalk and impressed the teacher enough to have her tell my mother about it.
Lastly, my Phys. Ed. teacher for the first two or three years was Ms. Petford. Yes, she did indeed look a little like the butch P.E. teacher from that one episode of
Sailor Moon S
who pinches Makoto/Jupiter and Minako/Venus's ass, though that was just a test to see how firm they were, nothing more ;). Nah, she was married and had kids, she just *looked* the part of the stereotypical female P.E. teacher. Gah, I sucked at gymnastics, especially the floor exercises... I was flexible in some fun ways when I was a young teenage guy, but, for the life of me, I could hardly ever do even a basic somersault without being held, let alone anything more complicated. Also, just like Bobby Hill on
King of the Hill
, I never showered after P.E. I don't know if it's still like that today, but, damn, the Mac shower room was dank and rank in 1988-89.
At the end of that particular school year, they tried something called something like "experiential education", which really meant "fieldtrips for marks". Oh, I went to the Mont Saint-Hilaire waterpark and Old Montreal and took a Saint Lawrence river cruise. By high school standards, that was a pretty good memory, but I don't think they repeated this requirement any other year (not that I didn't go on any other field trips, just not ones in near-midsummer).
I had a couple of mild heterosexual crushes that particular year, on L.C. (I put a Christmas card in her locker) and H.J. (the only girl I ever directly asked out; goddamn, I embarassed myself), and, to a lesser extent, on K.P. (a girl I never talked to).
(Too Much Information warning: highlight to read)
My two biggest crushes that year were gay, though, and I was old enough to know that what I was feeling was gay, I just came up with mental excuses as to why these particular gay crushes didn't "count", as I think a lot of bisexual teens do. I liked S.Y., who was my brother's friend and the first gay crush I had where I had some idea as to what was going on, and H.P., who was a guy I knew mainly from the bus at that point. I don't want to give any other identifying details, but let's just say that they were both "ethnic", which may have been due to
National Geographic
, and the French
Geo
, being about the only magazines where I could look at naked guys without anyone suspecting anything, this being many years before Google Image search made finding naked pictures of guys accessible to any teen.
I made a couple of friends in 8th grade, like Paul S., who came to my house a couple of times with James M., a slightly-retarded kid from our neighbourhood (who broke the antenna on my television so I had to get a new one). One time, we sang a song based on the demo tune from the old white Radio Shack keyboard, made famous in the
Strongbad E-mail, "Crazy Cartoons"
, and another time we were playing
Shinobi
on the Sega Master System and, through trial and error, one of them found the level select and fought against "Black Turtle", the helicopter boss, but I thought the Master System was overheating and turned it off. The guy moved to Wisconsin. I also met Jamie S. that year, and he showed me his house with his pool once.
Before I leave the academic portion of this year, this was the only year in high school I actually managed to make it on to the honour roll, and I think my average was just barely above 80. And, current Mac students, it wouldn't be on the permanent honour roll, carved into wood. I'm just talking about the printout one with dozens of names that they put up outside the principal's office at the end of each semester.
I briefly attempted to join the Air Cadets, but it was over at Virginie-Roy school and in French and the English one was way over at Beaconsfield High School, and it was on Saturdays, my traditional "veg out" day, and I was getting a little too... umm... "self-involved", if you catch my drift, and didn't feel like going out much, so I went for about four meetings and quit, which I do goddamn regret. I could have been a pilot by now. :(
One personal milestone happened in the autumn of 1988; my mother needed someone to go and hand in a cheque at American Express, downtown, so, after school one day, I walked over to the 211 bus stop and took it downtown, took the Metro (Montreal's subway) to Peel, went up, paid, took the Metro back to Lionel-Groulx station, got on the 211, got afraid that it was going the wrong direction (this was pretty much my first time taking it, though I've taken it hundreds, if not thousands, of times since). I took the bus to Saint Charles boulevard in Beaconsfield, at which point, I must have been given detailed instructions to get another bus and go north to Kirkland, where my mother had just started working at a daycare which shall remain nameless (actually, I don't think it's still around). My mother had just gotten hired by that daycare and was being complimented by her boss. On holidays, I would sometimes come with her and help out with the kids, most of whom would likely be, if they're still in this province, either in CEGEP (Quebec's junior college system) or, at the youngest, at the end of high school by now. The kids were cute... I also went because of a young assistant, D.L., who must have been either in her late teens or early 20s. I think she was in college and working part time. She was also cute; she had an English last name, but she looked Indian or maybe even Polynesian. I don't know if she was adopted or mixed-race or what, and I had enough sense not to ask her her race. One time, in April, I had a day off school, so I just walked from my house in Pincourt to the daycare, a 10 or so mile walk that took me about 3 hours on the dot, and then, a week or two later, I did the exact same thing again, except my mother wasn't too busy, so I walked over to Fairview Shopping Centre on Saint John's, another 2 or so miles away, which took me another half hour, at least, so I did at least 4 hours of walking that day, which is probably the most I had ever walked at once. I'll continue the daycare story next time.
In the summer of 1989, I went on the only other full-fledged vacation of my childhood, and it was only a camping trip to a campground just outside of Toronto. We rented a Plymouth Voyager minivan, and, the first night, we stayed at a campground at
Rice Lake
, near Peterborough, Ontario, where I went to the beach but didn't go swimming and I recall a little girl who wanted to get out of the lake so she could pee, but her father was talking really loud to her, saying something like "Honey, just pee in the lake. No one will know!" Yes, no one will know, unless you talk about her peeing in the lake out loud, loud enough that someone sitting well away from you can hear it. After the first night, we drove to our "home base",
Albion Hills Campground
, near Bolton, Ontario, some 30 kilometres northwest of downtown Toronto. The campground was fine; it had a small, private lake, showers, washrooms within short walking distance, and even a little store. And lots and lots of fireflies. And we watched television with my portable black-and-white television plugged into the lighter of the van. Amazingly, what we did in Toronto itself isn't that easy to remember. We avoided tourist traps and went to the Eaton Center and the soon-to-be-closed Simpson's (because that's where
Today's Special
was set), and we went to the
World's Biggest Bookstore
(allegedly). We also went to the
Ontario Science Centre
, but... eh... most of my science museum memories are of
Canada Science and Technology Museum
in Ottawa, which I've been to many times, so it's hard to isolate memories of the Ontario Science Centre... no, wait, they had an early synthesized voice computer on display, so I kept on trying to make it say "Hi, Ho! I'm Kermit the Frog!" We also went down to Niagara Falls, just for a daytrip, and I said "Looks like Roseanne Barr got into a bathtub." (with the water spilling off the edges, get it? Ha ha.), with a stop over for lunch in lovely, scenic
Welland
, a town that has... a supermarket, possibly a Loblaws! And a McDonald's! I think we took pictures of those Welland memories we will cherish forever. I think Welland is about the furthest west I have ever been in my life. We didn't go to Marineland in Niagara Falls, though, and I kind of wanted to because I liked the then-current advertising campaign with the commercial where the Walrus king kept on shouting "Happiness is!", which I would always strategically "mute", so it sounded like he was saying "Penises!" I think the advertisers figured out why older kids with naughty minds found that commercial amusing, and they switched "Happiness is" to "Everyone loves (Marineland)". We went to
Paramount Canada's Wonderland
, and I went on the only upside-down rollercoaster that I have ever been on, I think it was
Thunder Run
through "Wonder Mountain". Actually, I can't confirm that I went upside down, since
PCW Junkies, a Canada's Wonderland fan site
, doesn't seem to mention it, but it certainly felt like there is a "loop de loop" or two inside the "mountain". And we had a long drive around southwestern Ontario, in the Orangeville area. That's about it, but, on the way home, we passed through Napanee and ate at a McDonald's there, so, if there were any local four-year old girls in the restaurant at the time, one of them might have been
Avril Lavigne
. Who knows?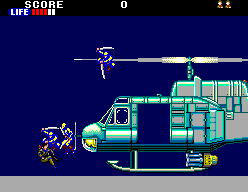 This was a fantastic year to be a Sega Master System owner: I got the Master System version of
Out Run
, which is still one of my favourite games of all-time, at least for
music
. Then Nick got
Wonder Boy in Monster Land
, the first platformer I ever played that included many RPG elements, such as getting items (amusing father quote: "The boots! You've got to get the boots!") and answering Pro-Sega-propaganda questions from the Sphinx and the Sega Fairy! Then there was
Shinobi
(
here's a page of graphics
; pretty primitive, yes, but, at the time, they were impressive for a home system; certainly better-looking than the first
Ninja Gaiden
on the NES). Other games that year which we liked for the Sega Master System were
Thnder Blade
,
After Burner
(which I would have mentioned for last year but forgot),
Altered Beast
,
Y's: The Vanished Omens
,
Golvellius
(the Master System's answer to
Legend of Zelda
)and the Master System version of
California Games
, which featured actual product placement in a Sega game... I was floored.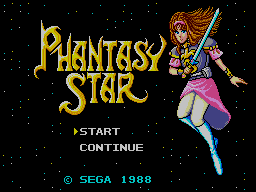 The best Master System game of all, or, at least, the most sophisticated, was
Phantasy Star
(
another fansite
), for being a turn-based RPG with huge, for the time, worlds to explore and lots of items, armour, and weapons, and the graphics were incredible for 8-bit, with fully-animated monsters and environmental backdrops during fights (the sequel, on the 16-bit Genesis, only had a grid backdrop during fights, and the third one had these bands of colour only vaguely resembling sky and land), and pseudo-3D "brick wall" maze-type dungeons (though all the walls looked exactly the same, so they were hell to navigate). In the 8-bit wars,
Phantasy Star
was the chip on Sega owners' shoulders, the game that convinced a lot of us that we had indeed bought the "right" system. And it was such a step up from anything I had played before... I don't think any other game since has been quite as much of a "step up"; at least, I don't recall being quite as blown away by a game.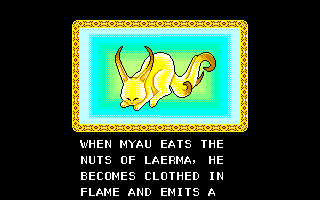 Of course,
Phantasy Star
is also from where I got the title of this blog.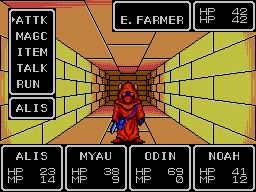 It's this Jawa-rip-off creature that says it, but I think it only says it if you encounter one in the deserts of planet Motavia and use Alis's "talk" power. The game was filled with stilted English, like "Welcome to the First Food Shop" (instead of "Fast Food Restaurant"), and I'm pleased that the Gameboy Advance version of the game keeps all of the original typos intact.
I think my favourite TV show I saw that year was
Garfield and Friends
, which is still about the best comic-strip-to-cartoon adaptation I have ever seen, excluding, maybe, a handful of
Peanuts
specials; it was better than the Saturday morning
Charlie Brown and Snoopy
show. What can you say, really? It's Garfield, Jon Arbuckle, Odie the dog, and, occasionally Nermal, the world's cutest kitten, Liz the vet (who doesn't like Jon, unlike what certain movies would have you believe), Arlene, Binky the Clown (who wasn't a character in the comic strip until after the
Garfield's Halloween Adventure special
) and
Lyman
no one else. The
U.S. Acres
(a.k.a.
Orson's Farm
) segments, based on the Jim Davis strip that appeared in
The Gazette
for a few months before getting pulled and which lasted maybe a year or two more in other papers, were fairly amusing, but they are the weakest link in the show, without a doubt. I loved the songs, like the "Abu Dhabi" song and the nightmare one with Jon singing "Eat, Garfield, eat! Eat with all your might! Eat that pasta, eat it faster, 'till it's out of sight. 'Till it's out of sight!"
Another show I liked, but only for a brief amount of time, was
Freddy's Nightmares
, the TV anthology show hosted by Freddy Krueger himself, which were mostly unconnected to
Nightmare on Elm Street
but they occasionally did "Freddy" episodes, like
"No More Mr. Nice Guy"
, the original
Nightmare on Elm Street
prequel, which was directed by Tobe Hooper, who also directed
Lifeforce
, one of my favourite "cheese" films as I discussed in the movie portion of
my entry for 1984-85
. This was also the year my mother started letting me stay up later on Saturdays, so I got into
Saturday Night Live
during the Dana Carvey/Phil Hartman/Jan Hooks/Kevin Nealon/Chris Farley/Chris Rock/Tim Meadows years, when Mike Myers and Adam Sandler were only bit players, and I believe that was also the first season with
Wayne's World
sketches. Back in the days when Dennis Miller was still pretty much an entertainment industry liberal. I also watched
Bleu Nuit
, the softcore porn movies they showed on Télévision Quatre-Saisons. I especially enjoyed the
Emmanuelle
films, this one movie whose title I forget that took place on, I think, the Maldives and features a fairly-explicit lesbian scene which included an Asian, and
Tendres Cousines
, the David Hamilton film which bordered on being kiddy porn (though I'm talking teenagers here who, on film, were a year or two older than I was at the time). Ah, such illicit thrills for a teenage guy in the days prior to the Internet.
Other minor things worth mentioning: I got a pair of Reeboks, but my dog, Sledgie, ate the insoles the first day I had them. Also, I was sick the day that George Bush sr. was inaugurated as President and I watched it on television, and then, that night, I had a dream when aliens took me and were showing me the inauguration on television monitors and were asking me to talk about it. Very strange.
Another one that took me forever to write, and I will admit defeat in hoping to get this all done by the end of September. I'll get it finished, don't worry, but it will have to be sometime in October.
My favourite movie released between October 2nd, 1988, and October 1st, 1989?
Even if
My Neighbour Totoro
shows up at the top of my list for last year, I don't think there's any way I can not name this one.
I want to write a review of
kiki's Delivery Service
soon, and it's very late, so I'll just say that I like it because it is a realistic, if you ignore the plot device witchcraft, tale of a young teenaged girl trying to make friends and find her niche in life in an unfamiliar city, and the story, save for the deus ex machinas ending, is a series of small events with nothing too "big" happening, just like in real life, and it's not afraid to show that, yes, life can be pretty boring and not too welcoming sometimes. I like it because it's straightforward, unpretentious, and focused, unlike certain other, more recent, Hayao Miyazaki films I won't mention by name. ;)
If you haven't figured it out by now, me and
Oscar
, as in Oscar
TM
, really don't agree on too much, but, of all the Best Picture winners of my lifetime,
Rain Man
is the best, even if the Raymond Babbitt character, played by Dustin Hoffman, is often used as the object example for people with Asperger's Syndrome when he's closer to being straight Autistic, or, if he does have Asperger's, he's an extreme case.
Two great summer movies which my mother took me to see are
Indiana Jones and the Last Crusade
and
Batman
, which are still highly-respected films to this day.
Ghostbusters II
didn't quite live up to the original flick, but it was still great summer entertainment.
Bill & Ted's Excellent Adventure
is also great fun, and I've thought all along that
Back to the Future Part II
was the first movie my mother let me see by myself, but, now that I think about it some more, it may actually be
UHF
, starring Weird Al Yankovic, directed by Jay Levey, that deserves that honour.
Also, it's not technically a movie, but the 6 part OVA series
Mobile Suit Gundam 0080: War in the Pocket
remains, to this day, about the best "serious" anime I have ever seen.