APPARENTLY, YOU HAVEN'T HEARD OF MY "VOTE OR DIE" CAMPAIGN.
"'Vote or die'? What the hell does that even mean?"
"What you think it means, bitch!"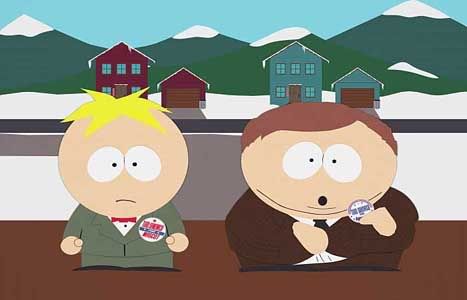 On Wednesday, Comedy Central aired the first new
South Park
episode since April,
"Douche and Turd"
. Now, being in Canada, where I can't watch Comedy Central since Canadians aren't allowed to subscribe to American satellite TV providers... oh, this just in,
a Quebec judge has struck down restrictions prohibiting Canadians from subscribing to American digital satellite services due to it infringing on Canadians' freedom of expression
. Let me get this straight... a ruling in
favour
of freedom of expression (and consumer choice) and
against
government-enforced cultural protectionism from a judge in
Quebec
? Yep, something like that could only happen the same week that the Boston Red Sox win the World Series. But I'm skeptical that the Supreme Court will let a good idea go unchallenged for too long.
Well, even if it is, for the time being, kind of a legal grey area as to whether or not Canadians can watch Comedy Central off American satellite, we can't afford it right now, and, since I don't want to wait months for the new episodes of
South Park
to show up on the Comedy Network, where the lag time after the American airing is ridiculous, I did the obvious thing a guy with a cable Internet connection can do: I once again asked "my American friend" to describe the episode in lots of detail, though "my American friend" had to tell me about the episode three times because the first couple of times he tried telling me about it, he... umm... couldn't tell me about the last five minutes because his... umm... "recollections" about the episode were corrupted and he also couldn't "scrub" his memories and tell me about things in the episode starting at any point, he always had to start over at the beginning.
In this episode, PETA wackos ambush South Park elementary, forcing the school to change its football team's name from the "Cows" to anything else, as long as it's not animal-related, a nickname which the students will suggest and vote upon. As a joke, Kyle wants to submit the name "Giant Douche" while Cartman thinks "Turd Sandwich" would be funnier, and, sure enough, those are the only two suggestions on the final vote. But Stan doesn't care much for either choice and doesn't want to vote, to the horror of his parents, and P.Diddy comes to visit him to spread his "Vote or Die" campaign, a campaign where he takes both verbs quite literally. While Kyle eventually convinces Stan to vote, he is dismayed to see Stan voting for "Turd Sandwich", and Stan realizes that, while Kyle pretended that he just wanted to see Stan vote, his efforts to get out the vote were really only to get out the vote for his own side, "Giant Douche", and Stan decided not to bother voting at all, which led to him being exiled from town and forced to make an unlikely alliance with someone who teaches him a valuable lesson about voting.
As usual, I thought the satire in the episode was almost entirely on target in so many ways, from portraying the ways
PETA activists frighten children
without that much exaggeration to basically admitting that all the celebrity-endorsed "Rock the Vote" sort of campaigns really only care about your vote if you vote Democrat, with "Giant Douche" being a thinly-veiled jab at Kerry (and, yes, that makes George W. Bush the "Turd Sandwich", which was especially obvious since Cartman's giant banner for "Turd Sandwich" uses the same font and flag icon as the Bush campaign, but they have to take shots at both sides; in any event, spoofing the Kerry and Bush campaigns was only a tiny part of the episode). The one aspect of the episode that disappointed me just a tad was that it didn't really address my main problem with the "Rock the Vote" kind of campaigns, something that bothers me more than the dubious claims of non-partisanship, and that is that, if someone's so uninformed or apathetic or immature that they wouldn't take the time to get themselves registered without the nice
celebrities on television telling them to
, I really honestly would rather that they not vote.
I've always viewed voting as a civic duty and I got myself on the electoral roll within a few days of my turning 18 in 1992 (though I couldn't really procrastinate that year since I turned 18 the same month as the nationwide
Charlottetown Referendum
), and, even at the times when I was the most depressed, I still went out and voted. I understand that it's a little more complicated to register to vote in the United States than it is here in Canada, where I don't think I even had to formally register but rather just show some identification and proof of residency and maybe my birth certificate and they just added my name to the voter list, so I realize that even civically-minded eighteeen-year old Americans will often procrastinate from registering until an election is imminent because filling out forms isn't too much "fun". But, still, the people who should be voting should take it upon themselves to register without being told to, and the people who need to be told to register are almost certainly on the lower end of the Bell curve in terms of intelligence and common sense; I have a couple of friends myself who don't vote, and they're nice enough people but they're no Ken Jennings and I don't consider their lack of voting to be any great loss to Canadian democracy. Quite the contrary; ideally, only smart, well-informed people should vote, not that I'd propose any type of intelligence test, but I don't wring my hands if the stupid don't vote.
But I understand that Matt Stone and Trey Parker can only fit so much "message" into twenty-two minutes and keep it funny, and Matt n' Trey have already made the point that
"uninformed people [should] just stay home"
when promoting
Team America: World Police
(which I really have to see again at some point), so I can easily declare that "I'm Steve Brandon and I approve of this message... er, episode!" It's not quite Season 6 "gold", but it's the best episode of the season so far, at least in terms of satire.
Anyway, since writing out the song lyrics makes my Google hits spike, here are both songs, first P.Diddy's "Vote or Die" rap: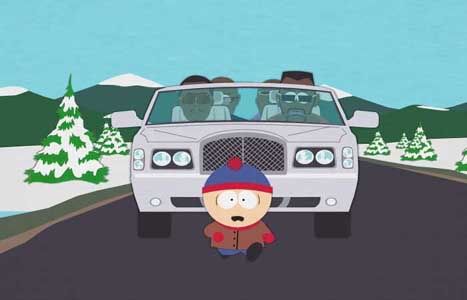 (Vote or die, mother_, mother_er, vote or die!)
Rock the vote or else I'm gonna stick a knife through your eye.
(Democracy is founded on one simple rule!)
Get out there and vote or I will mother__ kill you.
Yeah.

I like it when you vote, bitch!
(bitch!)
Shake them titties when you vote, bitch!
(bitch!)
I slam my jimmy through your mouth roof
(mouth roof)
Now get your big ass in the pollin' booth.

I said vote, bitch, or I'll f_____ kill you!

(Vote or die, mother_,
mother_, vote or die!)
You can't run from a thirty-eight,
go ahead and try!

(Let your opinion be heard! You gotta make a choice!)
'Cause after I slit your throat you won't have a f____ voice
Vote or die! VOTE OR DIE!
And the short "Get out the Vote" song from the end of the episode:
Let's get out the vote!
Let's make our voices heard!
We've been given the right to choose
between a douche and a turd.

It's democracy in action!
Put your freedom to the test.
A big fat turd or a stupid douche.
Which do you like best?
Some variations for Google: "Vote or die, motherfucker, motherfucker, vote or die." "Get out there and vote or I will motherfucking kill you!" "Cause after I slit your throat you won't have a fucking voice." "You can't run from a .38, go ahead and try."