EVERYBODY CAN SUCCEED, ALL YOU NEED IS TO BELIEVE...
...unless your definition of success is "being able to write and direct an episode of Degrassi" and your nationality is "not Canadian", in which case, you can "believe" and even "be honest with yourself, forget your fears and doubts" all you like but the Canadian government bureaucrats and unions won't let you do it, no matter how famous a director you are.
Here's a perfect object-example of why CanCon regulations suck...
(Excerpted from the article "Silent Bob loves CTV's Degrassi: Kevin Smith plans to act in 3-episode arc" by John Mckay of the Canadian Press.)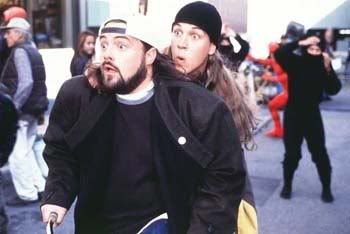 "Jay and Silent Bob are coming to Canada.

And they plan to visit Degrassi high school. Indie American filmmaker Kevin Smith (Clerks, Mallrats, Jersey Girl) has made no secret over the years of his love of the long-running Canadian TV franchise, and has even included references to it in his films featuring those slacker/stoner characters Jay (Jason Mewes) and Silent Bob (Smith).

After his offers to direct and/or write for the show were declined (sorry, he was told, Degrassi is 100 per cent Canadian content and that would jeopardize their Telefilm funding) it was agreed he could act in three episodes. So he'll be playing a dual role: a visiting director and the mute Silent Bob character he plays in his films.

"It's the easiest job in the world because I have to play myself but I play a fictionalized version of myself where I've been successful," Smith quipped Wednesday during a photo-op visit to the north-end Toronto studios of Epitome Productions where Degrassi is shot. "I pretend I'm a little different version of me.""
Goddamned Telefilm, a bunch of meddlesome, pedantic, protectionist bureaucrats deciding what does and doesn't constitute "Canadian Content"... so a television programme shot and set in Toronto produced by Canadians with a Canadian cast wouldn't count as "CanCon" because of a one-time event where one of America's hottest young directors would direct a couple of individual episodes, even if a few episodes written and directed by Kevin Smith would bring a lot more attention to said Canadian production all around the world?
If Kevin Smith is only acting in this, it's not really that much bigger a deal than that time he starred as himself on
Yes, Dear
, which is a sitcom on television on some channel somewhere that has apparently been on since 2000 despite my not having ever heard of it until I caught the Kevin Smith episode by chance while channel-surfing.
You know, I really think
Degrassi
studio
Epitome Pictures
(formerly Playing With Time Inc.) should just come up with a bullshit pseudonym writer and director for that episode and have Kevin Smith "ghost" it behind-the-camera with the truth leaked out as a rumour which Linda Schuyler would publicly deny while winking in an obvious manner.
But fuck Telefilm Canada anyway, since they fund the anti-Canada propaganda screeds from seditionist motherfucker director Pierre Falardeau like the
Elvis Gratton
series.
Anyway, if Kevin Smith going to appear on this episode both as himself and as Silent Bob, what implications does this have for the
View Askewniverse
as a whole, since Smith has never pulled a
Last Action Hero
wherein he starred as himself with his characters? It will worse than the time that Steve Urkel from
Family Matters
and Jaleel White, the actor that plays him (ooh, and Sonic),
coexisted within the Miller/Boyett-verse
(scroll down to the article "The Destruction of the Matrix" on the bottom of that page). Or will he only be Silent Bob in the movie they're filming rather than as a character that exists off the set?