THE FAT ALBERT MOVIE...
The trailer for the big screen retread of the classic 1970s cartoon series Fat Albert and the Cosby Kids is online.
This film was directed by
My Big Fat Greek Wedding
's
Joel Zwick
(ooh, he was also one of the lead directors for
Perfect Strangers
1
) and stars
Kenan Thompson
in a fat suit as the title character.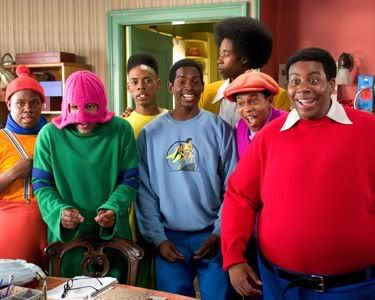 It would appear that they went the
Brady Bunch Movie
route and made it self-parody. (Though my film school brother enjoyed both
Brady Bunch
movies a lot.)
Since I'm such a fan of the Japanese cartoon series
Super GALS!
, which, if you ignore the obvious differences in style and culture, has many episodes that follow the
Fat Albert
template, probably unintentionally, almost perfectly, with a benevolent gang of good kids going around solving crises-of-the-week amongst single-appearance classmates, I was kind of hoping that they would duplicate the goofy earnestness of the original series rather than just have characters that look like the cartoon but whose purpose is just to point out how "stupid" and "naïve" the original cartoon was for cynical nostalgics.
I love seeing parodies of things I liked as a kid, but I think often the best parodies are the ones that play it mostly straight, with the best example I've ever seen of that concept being the episode of
South Park
from last year entitled
"All About Mormons"
wherein the "story" scenes were told almost completely straight, with the only comical exaggerations being the really, really credulous townspeople and the "DUMB-DUMB-DUMB-DUMB-DUMB" chorus, since, to a non-Mormon, Joseph Smith's claims are absurd enough in and of themselves
2
and presenting what he said and did in a straightforward way is actually a lot funnier than it would have been if they had made up a bunch of stuff about Smith just for a chuckle.
Likewise, both
Charlie's Angels
films, which were intended to be comedies, are also heads and shoulders above most other TV retreads simply because McG made them as though they were just feature length episodes of
Charlie's Angels
from an alternate reality where
Charlie's Angels
never went off the air. He didn't need to introduce a bunch of jaded modern onlookers going "Ha ha, the stuff they did on this show was so stupid, I can't believe people enjoyed this!" since it's patently obvious that a detective agency with beautiful women who are impossibly perfect in terms of undercover infiltration of the milieux
3
in which the criminals or whoever they are monitoring operate, being able to learn all of the skills necessary to be convincing in their roles seemingly in just a few minutes (and, when needs be, fabricate elaborate disguises including masks with all sorts of small animatronic features), is completely ludicruous, McG didn't need to add much, besides a few kickass dance sequences, to make it funny. The
Charlie's Angels
films were so straight-faced with their parody, making fun of other overused recent action movie conventions especially
The Matrix
's "Bullet time" and the disguises from the two Tom Cruise
Mission: Impossible
films, that a lot of people, critics and movie forum posters, hate them for being so derivative, which means they missed the point of the joke.
I find straightforward mocking of old television series to be better in small doses anyway, like in
Saturday Night Live
sketches, on
Harvey Birdman: Attorney at Law
, or the
Scooby Doo
portion of Kevin Smith's
Jay and Silent Bob Strike Back
, with everyone high on pot and Velma being an obvious lesbian, funnier than the entirety of the *first* live-action
Scooby Doo
film, because, once you get past the ambiguous marijuana use and the ambiguous lesbianism and the "How do these kids afford the van and the stuff and the ability to travel anywhere whenever they like?" and the "Why are they scared of monsters when they always find out it's just the other guy from the beginning of the episode, like the owner of the old amusement park, in a costume?", there really isn't that much unintentionally amusing about
Scooby Doo
, since it is just a kid's cartoon which you can enjoy for what it is or not enjoy because you've long outgrown it. (The second
Scooby Doo
film used actual villains from the series and looked much better, like they got most of the sarcastic post-modern irony out of their systems in the first one, but I was busy with studying... okay, I was busy with procrastinating from studying... and never got around to watching it.)
Getting back to the trailer, I'd say it does look like it looks like another postmodern trashing of a show from a more "innocent", or, at least, less irony-saturated era, however, at the end of the trailer, Albert actually meets the real Bill Cosby in person and is surprised that Cosby looks so old compared to the Bill Cosby of thirty years ago from the junkyard segments, and, if Bill Cosby was involved with this retread, it does give me some degree of confidence that the purpose of this film is something other than just pissing all over the legacy of the cartoon, so it could just be that most of the bits with the actual "send-up" of the cartoon were shown in the trailer, and, overall, the film will be much more positive. I know that Bill Cosby is someone who is gravely concerned about the negativity and gangsta stereotyping in so much of the pop culture that young people, especially black youth, consume, and, if the guy still has some say in what goes on with the animated franchise he helped create, I don't think he'd let them make it too dumb, and, if it is dumb, then Cosby would have been duped by the producers, since I don't see him willingly agreeing to participate in the wholesale trashing of his own cartoon.
All I'll say is I'll wait and see until just after Christmas; I'll be at the house of my sister and her boyfriend on Christmas Day (and I'm not too comfortable with that idea, to be perfectly honest, but we'll be in the middle of moving so it's not like I have any other choices) and the movie being released on Christmas that I'm looking forward to more than any other is still, obviously, Wes Anderson's
The Life Aquatic with Steve Zissou
.
At least this film promises to answer some questions about Dumb Donald's hat, because, really, what is that thing? When I was a little kid, I thought he was some sort of octopus with a human torso and limbs.
N.B.: This entry is a slightly-modified and heavily-expanded version of
this post I did at Rotten Tomatoes
.
1
Now that I've pointed out that Joel Zwick was a director for
Perfect Strangers
, if you're like me, you're probably wondering if he directed "The Men Who Knew Too Much", that really fucked up two-part November "sweeps" episode from 1990 that was shot on film on location in Los Angeles and which started off with Larry and Balki in a car chase with mobsters. Nope, that episode was directed by
Richard Correll
, another sitcom director whose only film, according to the IMDb, was the 1990 comedy
Ski Patrol
.
2
Though that episode wasn't a Mormon-bashing episode; as with everything that Matt Stone n' Trey Parker do, you need to look at the whole picture and not just take a few scenes out of context; the Mormons in the episode were presented as being sincere and honest and very dedicated to the family, and, ultimately, the message of that episode was one of tolerance, since what Mormons believe isn't any more increduluous than most other religions.
3
The proper plural form of "milieu" in French is "milieux", not "milieus".