TRAILER REVIEW: THREE UPCOMING ANIMATED FILMS.
Cars, Chicken Little, and Madagascar
Hmm... the Academy of Motion Picture Arts and Sciences' short list of eligible films for the 2005 Best Animated Feature Oscar has just been released (and I'll write a little about that later) and I'm already thinking of the potential nominees for the
2006
award thanks to three new trailers that all seem to have hit the Internet over the past week or so.
In alphabetical order: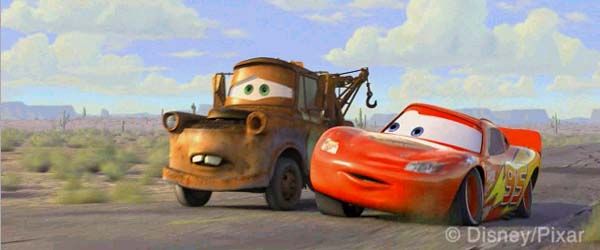 (N.B. Direct links to the Quicktime trailer files are
on this page
, if you want to save them to your harddrive.)
Cars
, formerly know as
Route 66
, is
Pixar
co-founder
John Lasseter
's first film as director since
Toy Story 2
in 1999, and is also the final Pixar film being distributed by Disney, at least under their current contract. (I suspect they'll renegotiate once Michael Eisner retires as Disney chairman.)
Lightning McQueen (voiced by Owen Wilson) is a NASCAR stock car (or a stock car racing for a NASCAR-type racing league, if they didn't want to pay for the NASCAR license) who, while driving to a race, gets lost and finds himself in some small town off Route 66 called "Radiator Springs", full of older cars, and a tow truck voiced by "Larry the Cable Guy", who, according to
this USA Today article
, teach Lightning valuable life lessons "about what really matters".
The trailer starts off with swelling string music and a shot of a bumblebee fluttering from flower to flower in a field with several cartoonish-looking cactii before something comes fast across the screen and you hear a splat. The "Larry the Cable Guy" tow truck screams that he can't see and feels bad about squashing the baby bumblebee, so Lightning tells him to quit his bawling because it could be a lot worse, but then he gets splatted by a whole cloud of bumblebees, which he finds disgusting but the tow truck finds amusing. Then there's fast tinfoil metal music that might be Green Day or some band like that and you see an overhead shot of a racing oval that I think is
Atlanta Motor Speedway
(not a NASCAR fan, but that track's in
Ferrari F-355 Challenge
on the Sega Dreamcast) with a NASCAR-like race in progress, and one of the anthropomorphized cars goes into the pits, where it's attended to by several anthropomorphized jack-lifts, and goes back into the fray, and there are several minor incidents and spin-outs and Thunder muscles his way through the pack, winning the race and doing a little victory jump to the cheers of the undulating crowd, which is composed entirely of automobiles if you look very closely. As Thunder wins, the "camera" pulls back, and you see that the race is being projected on a drive-in screen, showing a tight overhead shot of the finish line as the rest of the pack goes over it in a colourful blur with the
Cars
logo painted onto the track, and the tow truck seems excited by the trailer-within-the-trailer, saying "Dang'um (?), well, I tell you what, son, I'd drive my tires over a mile of busted glass just to see that picture right there." and then you see a shinier version the
Cars
logo in chrome on '57 Chevy red and a brief shot of the Larry the Cable Guy tow truck saying "Dang'um" again.
Most of the animation was done just for the teaser trailer, since much of the film, to be released on November 4
th
, 2005, has yet to be animated, but I think the atmospheric effects, heat distortion, and mirages on the racetrack look great and the cars don't look too shabby either, even they look more or less the way I thought anthropomorphized automobile characters would look, with the eyes being either the windhsields or headlights and the mouth being the front bumper (like on the long forgotten Hanna-Barbera cartoon,
Wheelie and the Chopper Bunch
or on those claymation Chevron commercials from Nick Park).
Interestingly enough, the initial overall reaction at RottenTomatoes.com seems
negative
, and, I'm wagering that has partly to do with the "Red State/Blue State" divide, since the impression that I get that is that the bulk of the posters in the Rotten Tomatoes forum, at least of those posters who are vocal about politics, are "Blue State" people, or have a liberal "Blue State" attitude even if they live in a conservative "Red State", and this is one animated film that seems like it will play much better in the "Red States", where NASCAR and
"Larry the Cable Guy"
are, shall we say, well-received, and, while I've never seen whatever show it is that "Larry the Cable Guy" is on myself, I know from a certain liberal blogger who shall remain nameless that liberals in general seem to loathe "Larry the Cable Guy" and they look down upon NASCAR because of the general contempt they have for so-called "rednecks" in flyover country who aren't educated and sophisticated and urbane and cultured and... "DAGNABIT! Why won't those rubes vote for candidates like Adlai Stevenson or John Kerry, their mental superiors?" Not that I want to make an off-topic political point in this post, but I think sociologists and political scientist would find the "Red State/Blue State" undercurrents of
this thread
fascinating.
Incidentally, minor trivia note, this isn't the first time Wes Anderson's collaborator Owen Wilson has done voices for animation, since he was the voice of "Rhett Van Der Graaf", the character who Luanne Platter wanted to marry quickly because she discovered a religious abstinence type group which made her a reborn "virgin" on the
King of the Hill
episode "Luanne Virgin 2.0". (Hmm... come to think of it,
King of the Hill
is another cartoon that I don't think is as highly regarded as it ought to be, possibly also because of the "Red State/Blue State" divide.)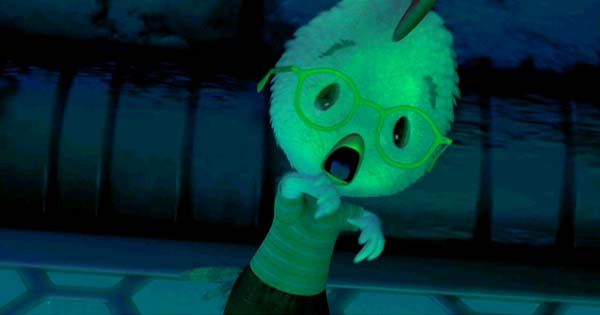 Chicken Little
, directed by Mark Dindal, is Disney Feature Animation's first all-CG film since the gorgeous-looking but flat
Dinosaur
in 2000, though, for you nitpickers, it's technically the first all-CG Disney Feature Animation film ever, since many of the backgrounds in Dinosaur were live-action.
This is a very clever trailer which starts off like the trailer for some sort of conspiracy or alien invasion movie, with shots of the Earth and time-lapse shots of desert vistas and fields and radio telescopes swiveling with eclipses and stormclouds and solar flares and crop circles and a montage of live-action shots of the Capitol and the Kremlin and Tower Bridge and Eiffel Tower other landmarks interspersed with a rapid array of imagery including industrial smokestacks and a demonstration with flags and banners and the pyramids a computer screen showing satellite images of clouds and the Earth being targeted, with one of the movie trailer "Voice of God"s, probably either Don LaFontaine or Hal Douglas, booming "HE SAW THE SIGNS. HE TRIED TO WARN US. NOW, IN OUR DARKEST HOUR, HE'S GOT A PLAN TO SAVE US ALL!", accompanies by the flying letters, and, when the "Voice of God" says "He's got a plan", it's only then we first see Chicken Little himself, posing confidently, but after tVoG intones "to save us all", Chicken little runs frantically towards the "camera", shattering glass, screaming "run". Then REM's "It's the End of the World as We Know It", as used in
Independence Day
, starts playing, and there's a Raimi-esque zoom onto Chicken Little, looking up at the sky whilst screaming "the sky is falling", the fat pig character yelling "Take cover!" while some lights explode behind them, a whirlwind, a whole lot of small spacecraft separating from a mother ship à la
Independence Day
, the pig hyperventilating into a pair of paper bags (cute), characters running out of a whirlwind vortex thingie, the pig hiding behind Chicken Little, a silhouette of an octopus-like alien coming out of a hatch, small crafts carving crop circle patterns into cornflields using blue beams of light accompanied by a buzzing noise which is actually the sound of... the pig eating corn. "Sorry, nervous eater!" "WHEN IT COMES TO SAVING THE WORLD, IT HELPS TO BE LITTLE CHICKEN". Then, after the
Chicken Little
, logo, carved into the cornfield, you see a bunch of the ships cartwheeling over the town square while Chicken Little's father drives off, telling his son "Son, there's something I want you to know: in about three seconds, I'm going to scream like a little girl."
Weirdly, the trailer tells you to go to
the-sky-is-falling.com
, but nothing shows up when you try that URL and a WhoIs search reveals that domain was registered by some outfit called "Fizbin Consultants", though they may be the one handling the domains for Disney.
Anyway, I didn't know what to expect from the initial teaser trailer released ages ago, with Chicken Little at a press conference, but, assuming what's in the second half of the trailer will be in the finished film, it does look to be an amusing send up of sci-fi fantasy films like
Signs
and
Independence Day
with a touch of
Close Encounters of the Third Kind
and I don't know if the creators of this film are anime fans, but the hexagonal arrays of panels you see a couple of times in this trailer are very reminiscent of
Neon Genesis Evangelion
. While I was a bit skeptical that Disney could compete with Pixar and Dreamworks in the field of computer animation, this film continues with the humour in a more Warner Brothers vein as seem in Dindal's previous film,
The Emperor's New Groove
, and does look like it could be the best thing that Feature Animation has done since
lilo & Stitch
.
----
I'll complete this article later, but I want to go to Blockbuster...