YASSIR ARAFAT TAKES UP RESIDENCE SOMEWHERE WARM... VERY, VERY WARM.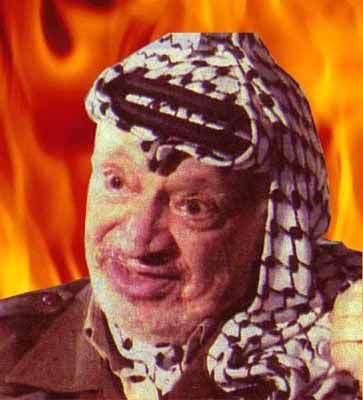 Good riddance to evil rubbish.
Yup, Yasser Arafat, a.k.a. "Arafish", the evil terrorist leader and, to use the vernacular of Concordia University's SPHR (Solidarity for Palestinian Human Rights), "war criminal", has finally bought the farm.
Kicked the bucket. He's pining for the fjords. His metabolic processes are history. He's an ex-terrorist. (For those of you in Rio Linda, that means he's dead.)
I doubt that he's joined the bleeding choir invisible, though, unless it's a choir of screaming in eternal torment in Hell. He was an
evil man
who was the
father of modern terrorism
, who instilled a
nihilistic "culture of death"
that has done nothing but harm to Palestininans, and who
duped world leaders into thinking that he is some sort of statesman
and not a terrorist seeking the total eradication of Israel into the sea.
I suspect that Arafat actually died last week, as the Jerusalem
Post
had originally reported, and they were just acting like he was alive because of the Islamic preference for same-day burials and because
they were trying to recover the millions or even billions he embezzeled
. Rush Limbaugh compared the situation in the Paris hospital to the film
Weekend at Bernie's
, wherein Andrew McCarthy and Jonathan Silverman have to pretend their corrupt boss, killed by a gangster hitman, is alive during a weekend party at the boss's beach house to avoid being charged with his murder, but I think a more apt comparison would be to
Weekend at Bernie's II
, in which an inept voodoo priest feeds Bernie's corpse a faulty potion in an attempt to get Bernie to point out where his embezzled millions are located, but, instead, Bernie becomes a dancing zombie whenever there's music playing. (Yes, I did see
Weekend at Bernie's II
in theatres when it first came out, but it was part of a double-feature, presumably with some other movie of similar craptitude.)
The cause of death is unknown because it's not a requirement in France to list the cause of death, but fairly credible rumours persist that Arafat was
a closet homosexual
and the blood disease he was being treated for was, in fact,
AIDS
, which, while I don't have a problem with it, would be devastating news if it ever got out in homophobic palestine, so, to that, I say,
"Hey, Palestinians, read this!"
Palestinian officials were still using his illness as a chance to partake in their second favourite sport, Israel bashing, suggesting that Arafat was
"suffering from a variety of digestive tract ailments" related to his confinement in Ramallah
. And, of course, the hateful murderers of Arafat's terrorist group, Hamas, are
spreading around the lie that Arafat was poisoned
.
""I hold Israel responsible for the crime of killing Abu Ammar," Hamas' top political leader, Khaled Mashaal, told Al-Jazeera television by telephone, using the late Palestinian leader's nom de guerre. He offered no evidence."
Brazilian moonbat idiotarian cartoonist Latuff has drawn
a cartoon entitled "Forgiveness" depicting an Israeli, weeping because the terrorist leader who wanted him dead was, at the time the cartoon was drawn, dying, finding solace in the arms of a non-threatening Palestinian
. Umm, no, sorry Carlos, here's some
actual audio, live from Israel, as to how real Israelis are taking today's news
.
Here's some blessed gloating at Little Green Footballs
, and some more at
the Anti-Idiotarian Rottweiler
, while
Boston Globe columnist Jeff Jacoby has called Arafat a "monster"
. At National Review Online, Aaron Mannes writes about
Arafat's Legacy or terrorism
, Jeff Babbin writes about how Arafat's death
opens the door for more fruitful negotiations for non-fake peace
, and Tom Gross
complains about Arafat getting the Princess Di treatment
from the media.
So, was last week the greatest week I remember? Let's look at the evidence:
George W. Bush, the great president who many European intellectuals think of as a "cowboy", as though being called a kickass cowboy by an egghead is some kind of insult, gets reelected by a majority of American voters. ("America, fuck yeah!")

Yasser Arafat either died completely or came within a hair of being officially dead.

I bought another volume of Super GALS! and ate a Big Mac and a KFC Spicy Big Crunch sandwich in the same week.
So, yeah, if I can't call that a truly great week, I don't know what greatness is.
In closing,
Paul Jané
, Montreal blogger and fellow member of the October 2
nd
club, is the first page that shows up on Google when I Google my most favourite arrogant awkward English Yassir Arafat quotation of all,
"You must be accurately when speaking with General Arafat!"
So, enjoy Hell, Yasser. You will not be missed or mourned by anyone with any common sense. And your grave will make a wonderful urinal should I ever visit Ramallah.