A BEVVY OF ANIMATION NEWS...
I like the word "bevvy". People don't use it enough these days, even though there's a bevvy of circumstances where it can come in handy.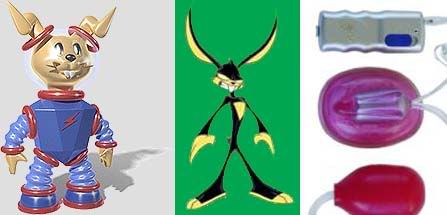 ITEM!
As I mentioned
last week
(in a brief paragraph at the end of the article), Warner Brothers could face a legal challenge should it call the Bugs Bunny of the Future in
Loonatics
"Buzz Bunny", as there already is a copyrighted character from Holland called
"Buzz Bunny"
. I also mentioned that there is a
clitoral stimulator/vibrator named "Buzz Bunny"
, the existence of which (and ease at which it can be found using search engines like Google) might prompt some uncomfortable questions to parents should Warner Bros. proceed with calling the character "Buzz Bunny" anyway.
The website Toon Zone has picked up on this story:
"Will the real Buzz Bunny please stand up?

"Buzz" is the name of the Bugs Bunny descendent starring in Warner Bros. Animation's recently announced Loonatics cartoon series. But it turns out that "Buzz" is also the name of a copyrighted character created by Dutch freelance designer and illustrator Metin Seven.

"I have only just discovered the issue, because my Figure Farm website traffic has suddenly gone berserk the last few days," Seven told Toon Zone.

"After some investigation I discovered that a few web pages around the world had linked to my page to illustrate that there already was a Buzz Bunny when Warner introduced their Loonatics. I actually hadn't heard of the Loonatics until those pages started linking to my Buzz Bunny at Figurefarm.com.""
The article goes on to mention that Metin Seven is checking his options in regards to his copyright on the name, but he hasn't initiated any legal action against Warner... yet.
The article also mentions the other "Buzz Bunny", calling it an "erotic device".
So, if anyone from Warner reads this, I have a couple of suggestions for names that I will revoke any claim to, should you want to use them:
"Bash Bunny"
, a name I find moderately amusing, and it has the same "beat" as "Buzz Bunny", so, if you have any episodes already done, you'd only have to dub over one word. And I checked Google and the only "Bash Bunny" that exists, as far as I can tell, is a pseudonym for one message board poster on videogame forums. Or you can also have the more pretentious
"futurebugs"
, which, anytime someone asks how to spell it, he'd say "all lower case, no space".
ITEM!
Sunday night, Fox aired a controversial episode of a popular cartoon series dealing with an issue at the top of the headlines... back in the 1980s!
Yeah, since I didn't write a proper review of it, I might as well do a brief one here. Sunday's new episode of
King of the Hill
, "Death Buys a Timeshare", dealt with that 1980s sitcom staple, timeshare resorts, though it took a bit of a different angle. Rather than the cliché story where the sitcom family goes down to the tropics or up into the mountains, thinking they're getting a free vacation only to be captives to high pressure sales rechniques from shady brokers working on commission.
Hank Hill's father, Cotton Hill, inherits $10000 from the death of a friend (meant to cover his funeral, but, after the cremation and ashbag, Cotton still has $9920 left) and decides to take advantage of the offer of a free vacation offered by a timeshare resort in Mexico, thinking all he needs to do is sit through a 20 minute sales pitch at some point during the week, and he takes Bill with him to go and spend it on what "Topsy" would have done, "Hell raising and girl chasing". Hank decides he has to go with those two to make sure that Cotton doesn't do something crazy, and to baby-sit Bill, whose wages are still being garnished by Columbia-House. In Mexico, they get taken on a tour of "el Grande Vista", and then to the closing room, where each of them get assigned a closer: Hank ("Mr. Consumer Reports") gets "Jimmy", a guy who acts like he's down on his luck in his personal life and his wife is about to leave him if he doesn't make this one sale, Bill gets "Wanda", who thinks of Bill as "the Bald, fat Guy who's going to look down my shirt", and Cotton gets Mitch, the slickest "closer" of all. Hank knows that timeshares are about the worst investment you can make, so he doesn't bite. Bill falls for Wanda's fake charms but, when the first credit card he tries fails the credit check, he tries everything else in his wallet including his Blockbuster card, and, when he finally finds the one credit card he has with no credit limit, Hank has to wrestle him away from Wanda, telling him that Americans can't own land in Mexico, so everything he's hearing about it being a great investment is bullshit. But Mitch gets Cotton to sign away his money by convincing him that he'll fit perfectly in their "exclusive" community, along with O'Kelly, the man who founded the community who is allegedly a rugged adventurer and explorer, and who has a yacht, aboard which Cotton is promised to receive "el Presidenté's Medal of Achievement." Unbeknowst to Cotton, Hank tries to get them to tear up the deal, since they don't realize that Cotton is a pensioner who lives in a small apartment on just $300 a month.
Hank: He can't even afford real Cheerios. He eats something called "Oat Loops". It's made right around here.

Mitch: What? But then... How can we raise his monthly ownership dues? And If he's not a homeowner, then... What are we going to foreclose on?
But, even if Hank succeeds in getting them to tear up the contract, how will Hank be able to break it to his father, who feels that he is getting the honour and respect he deserves at last with the promise of the "medal" and who thinks he finally has found a place where he belongs? Is it worth sacrificing an old man's happiness just to stop him from getting into a fradulent "investment"?
Also, there was a somewhat bizarre B-plot on this episode where Peggy and Bobby, along with Dale Gribble, stuck back in Arlen, go to the pools of vacant houses, either because they're up for sale or because their owners are on vacation, just to go swimming.
Anyway, this seemed like another "Hills go to Mexico" episode, but you saw very little of real Mexico this time, just a couple of mariachi guys in sombreros who follow Hank around for a while. They've actually already done the mariachi guys joke in the second season episode, "Three Days of the Kahndo", but I'll let it pass since my brother has been to Mexico before and the mariachi guys in their sombreros really do follow tourists around (annoying him). It's an episode that falls squarely in the "Hank tries not to disappoint his father" category (I'd say "bond with", but Cotton's too stubborn to change his mind about his son), and, while Hank was trying to avoid his father being milked too much, it didn't particularly remind me of any other episode, unlike the previous couple of episodes, so I thought it was one of the better episodes of the last little while. Just don't take the rather dubious "resolution" at face value as a moral.
Also, I presume that the money Hank was spending while in Mexico was Cotton's, as didn't he just blow all his vacation money on the military cat he was taking care of in the previous episode? Well, maybe this episode doesn't take place right after, as it is warm enough to go swimming somewhere in mid-Texas.
King of the Hill Real-Life Brand Watch:
Several brands are mentioned in jokes, including Columbia-House, Blockbuster, and Cheerios.
Also on Fox on Sunday, blah blah
Simpsons
blah blah
Springfield legalizes gay marriage
blah blah
controversy
yada yada
I knew it was Marge's sister Patty since last summer
something something the woman tennis pro she was marrying turned out to be a guy in disguise blah blah not close to being the worst recent episode of
The Simpsons
by any means but it was still an anti-climax after the hype. And that's all I have to say about that.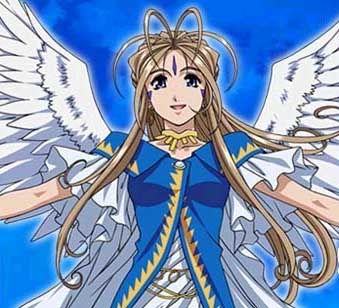 ITEM!
Well, this was quick.
From
Anime News Network
:
"At their Katsucon panel today, Media Blasters announced that they hold the rights to the Oh! My Goddess TV series, Genshiken, Hinotori, and a 3-part OVA called Phantom. John Sirabella said that he believed that they also has the rights for Kujibiki Unbalance (the show watched by the Genshiken characters), but has to double check. A full panel report will follow later, which will also include their live action acquisitions."
I wasn't remotely considering downloading
Oh My Goddess!
TV, as I knew it would be licensed very, very quickly, but I was still expecting it to be announced at a bigger con later in the year and that it would be either Geneon or ADV which would get it (or, pipedream, AnimEigo).
I'm not particularly bothered by Media Blasters, but I hope the quality of their DVD releases have improved since their release of the
Magic Knight Rayearth
season 1 DVDs five years ago (the only Media Blasters DVDs I have), where the picture and sound were reasonably good (well, as good as can be expected from an early 90s TV anime) but there were a lot of odd things about the DVDs, like no time indexes for the episodes.
Also, it would be nice if it were out this year, but I won't suddenly get bothered if Media Blasters announces that the first volume won't be out until next year, as some "lag time" between the Japanese DVD releases and the American DVD releases is completely normal and expected. Even as someone for whom
OMG!
TV is my most anticipated series (other than, maybe, the second half of Super Gals), I don't have the entitlement mentality that a show must be available really soon after the licensing announcement "or else", and there are shows from 2003 and 2004 that I never bothered downloading that I will buy in the meantime.
Probably one reason they announced it so early was to nip the "ethical" digisubbers in the bud, before they could fansub too many episodes and distribute them online through Bittorrent and other file-sharing services. (Not that it will stop the more blatant license-ignoring fansubbers, upon whom I hope the domestic anime industry opens some MPAA-esque cans of legal whoop-ass soon.) You're still getting some bitching from the "entitlement kiddies" (the people who don't want to pay for any anime ever), like in
the thread at AnimeNewsNetwork from which I copied and pasted some of my comments
, but not remotely close to the volume of so-called "Narutards" who bitched about
Naruto being licensed last week
.
ITEM!
Also, what did I think of
Mew Mew Power
, the localized version of
Tokyo Mew Mew
, which
I said last week
I was going to tape on Saturday morning?
Well, I did set up the VCR to tape Fox on Saturday morning at 8 a.m., it was on the right time and the right station, and the cable didn't go out nor did the power, and, when I got up, I had indeed taped half-an-hour of Fox television at the right time. Just...
WJBK 2
, the Detroit Fox affiliate (the Fox station Rogers Cable carries in Ontario) doesn't bother at all with the low-rated 4Kids TV (formerly FoxBox) block, so
WDWB 20
, the Detroit WB network affiliate, carries it instead, but Rogers doesn't carry the WB Network at all, so, long story short, I can't warch
Mew Mew Power
even if I wanted to. I think the only way I could see it would be to switch back to Bell ExpressVu, but we can't possibly afford that right now.
I haven't heard any opinions from level-headed fans who are neutral on 4Kids like I am, so I'll just link to this
fan reaction of the other type
. Probably it's the most thorough analysis of the changes 4Kids made to make the show more appealing to its target audience in North America, but I wouldn't normally link to something so... umm... opinionated. Just it's late, and I'm feeling too lazy to look for any other opinions.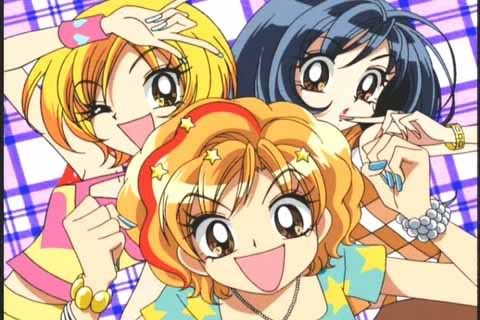 ITEM!
For those of you that care, the episode guide for
Episode 2 of Super Gals!
is finished, though I still need to make screencaps (and my DVD-ROM drive seems to be almost completely dead).