OTTAWA KAIDASHI KIKOU (Ottawa Shopping Log), JOB INTERVIEW, APRIL FOOLS DAY GAGS, AND SOME OTHER BORING JUNK...
ITEM!
Wednesday I had a job interview at a local food store I am not going to identify as I don't want to be one of those dumb-ass bloggers who gets fired, or, in this case, "not hired", for giving too many specifics about where I work (or hope to work), although this particular store looks like a nice place to work.
On Tuesday, my mother took me shopping for "interview clothes"; she thought there was a
Mark's Work Wearhouse
somewhere down Merivale, but we couldn't find it (though it's there, on the corner of West Hunt Club road, which was a little further south than where we were looking), so we took a little drive westward along to the 417 and went to this neat little shopping mall called
The Hazeldean Mall
in Kanata (corner Hazeldean and Eagleson), which is a community shopping centre that's a bit smaller than the Faubourg de L'Ile shopping centre in Pincourt, but, the way the stores are arranged inside, it feels like you're in the corner of a much larger shopping centre. The Mark's Work Wearhouse inside there was only about half the size of the L'Équipeur (the Quebec name for the chain) store in Pointe-Claire, and they had already gotten rid of most of their sweaters, but we made do with what they had in stock. I tried out two pairs of pants, which was the first time in years I actually bothered using
changing rooms
(which I hate). I chose a pair of navy blue cargo pants (which looked black in the store), a blue crewneck sweater, and a dress shirt that's... umm... it's got blue interconnecting lines on a white background. The lines are too close to say "scotch", maybe just straight "plaid" but I'm not sure if "plaid" is technically appropriate when the background is white. The cloesest shirt pattern image I can find on the Internet is
this Ralph Lauren Polo shirt that's called "Azure Plaid"
. I also got a pair of elegant-ish black leather work shoes that look kind of like dress shoes but with rugged soles (it was the only pair of black leather shoes they had in the store that were available in size 13), and a black hooded sweatshirt, though that last one wasn't for the interview, it was just because most of the "hoodies" (which I still call "jumpers") I have are falling apart at the seams.
So we paid for the clothes, and my mother took me back to Nepean, to drop me off at the Zellers so I could get my hair done at the in-store barber shop, Friendly Cuts, since it's cheap and I don't care for anything too fancy to be done to my hair, just a normal trim. I took off my coat, and sat down on the side of the hairdresser that acknowledged me first, who appeared to be a Korean woman in her mid-30s. How can I tell she's Korean? She was speaking a language to her friends with
"phonemes"
that sound like Japanese, but I didn't understand any of the words she was saying so it couldn't be Japanese. Also, she had brown hair, and, as my mother pointed out, there is a large enough Korean-Canadian population in this area for there to be Korean-language services at Protestant churches. I had to wait a while as some old woman seemed to be getting her hair curled or permed, meaning a lot of those old-fashioned plastic curlers had to be applied and removed. Anyway, the lady did a nice job on my hair, just the way I like it. Shortish, but not too short. I mean, I'm a 30 year old guy who still has all of his hair (beating the odds for my gene), so I don't want it cut too short. After the haircut, I wanted to see if I could catch up with my mother before she drove home, so I went to the storefront library in Emerald Plaza, but she had already left. (Damnit! I can't believe no libraries in the Ottawa Public Library system have any English-language copies of the first
Molly Moon
book; I was hoping I would get a chance to read that!) Then I went to the McDaniel's Independent supermarket, which was the other place that she was going, but the car wasn't in the parking lot, so I cut around the rear of the strip mall with the HMV in it and walked over to the McDonald's to have a snack of fries. After that, I phoned my mother to say I was coming home, but she said dinner would be quite a while away and suggested that I go over to Blockbuster, which I wasn't planning on doing, but then I remembered that I still wanted to rent
The Cat Returns
, which I have yet to see. Damnit again, Merivale Blockbuster had
Nausicaä of the Valley of Wind
, which I wasn't in the mood for, and they had
Porco Rosso
, which I might have rented but their only copy was out (I've seen both before, but years ago at my anime club), but they had no copies I could find of
The Cat Returns
for rental, even though it was available for sale. I decided to have another look for Steven Spielberg's
Duel
, which I still have yet to see, but the Merivale Blockbuster didn't have any copies of that either, so I was about to settle for renting
The Spongebob Squarepants Movie
but then I decided that I'd rather rent
Tube
, a Korean "popcorn movie" from first-time director Baek Woon-hak which is more or less advertised as being
Die Hard
on a subway train, or an Asian
Speed
. After renting that, I... uhh... had an uneventful walk home.
Wednesday, I got up and did my usual message board thing for a couple of hours. Then I showered and did every kind of preeming I could think of, and dressed up nicely, though I had to get my father to help put on suspenders, which I most certainly am not used to wearing. Just before my parents took me to the food store, the "alligator clip" on the back of the suspenders gave way, though I was wearing my belt as well, so it wasn't that dire a situation. I tried getting the clip back on a couple of times, but it wouldn't stay on for more than a minute or so, so, eventually, I just gave up. Though, once I got to the place with the food store in question, I wandered to a nearby washroom and tried to get it clipped again, with the same results. Feh, as long as they weren't going to do a pat down dress inspection, I'd be fine.
I got to the store, went to the last checkout, asked for... obviously, I shouldn't say the name of the woman... and, at first, the cashier wasn't sure who I was asking for, but she sent me to see this kid and, when I said I was there for a job interview, he knew the woman I was talking about. (It was a variation of the same name.) I sat down in a chair for about fifteen agonizing minutes until the woman I was supposed to talk to came to pick me up and take me through the security doors upstairs to an empty office. She asked me to describe myself a little, I said I was thirty, and asked if that was a problem. She said no, as she was older than that (I'd say mid-to-late thirties). Then I said that I had moved to Ontario from Quebec, mainly for job reasons, and I wasn't currently at university, since I had to quit Concordia for the move and there are some unfinished things I have to deal with before I can successfully apply for a Ontario university. She asked me why I wanted to work there, and I replied that I thought that particular store had a more positive atmosphere than most food stores I have been to in the area, and then she asked me what I thought the goal of the store was, and I said "To provide quality produce and meat..." and I could tell she wanted more, so I meekly added "...to the customer," which was, of course, the correct answer, about how the customer is the most important aspect to the store. Then there were a few questions about my experience, which is very, very slim (answering phones for my father once when he was helping to set up a copy protection software company for a couple of weeks). I pretty much had to admit that the main reason I couldn't get a job in Quebec was because I get very nervous when I speak French (and I can't understand the
joual
street accent). And she asked me what I thought I could offer to the store, and I think I said something along the lines of that I'm a friendly guy who is eager to get some job experience. She said that I'd be one of those guys who bags stuff and carries bags out to cars, and I'd be the first person people see when they enter and the last person to see them leave, so I would be kind of an "ambassador" to the store and would have to be very personable, especially considering that they like to have a lot of people on the floor to deal with customers and ask them if they need help, so it's not a good job for shy people, so I had to try and act as not shy as I could. She asked me if I could work any time, and I said yes, but I prefer afternoons and evenings, as I am very much at my most energetic in the evening. She then asked me if I could work weekends and I said that I joined a Japanese anime club at the University of Ottawa to socialize, as I'm in a new city and don't really know anyone, so she was wondering what Japanese anime was, and I said "Japanese cartoons", because I'm not one of those "anime are not cartoons" fanboys, and I said like
Sailor Moon
(pretending that I don't have three seasons of the show subtitled on DVD) and
Dragonball Z
and she seemed to remember some type of show with a blue cat, so I said "Was that Luna from
Sailor Moon
? She's blue," but that wasn't the answer, and then I suggested maybe
Samurai Pizza Cats
, but that wasn't it either. (In retrospect, now that I think about it, she probably meant
Doraemon
, though I have no idea where she would have seen that as it's never made it to North America officially.) She asked me if I had any more questions, but I just asked if it was a problem that I don't drive, which isn't really a problem for me as I live only about a mile away from the store and there's the bus anyway, but she didn't think it would be. So that was about the end of the interview; she told me that she'd call back by Monday if she wanted me to come back for a second interview, and, if not, my name would still be on file if they need people for other jobs.
So, I went back down the stairs, found that my parents were still in the store, helped them shop, and then helped them carry the bags, hoping that the interview woman might notice somehow. There was another kid sitting in the same waiting chair, so they seem to be interviewing quite a few people. It's hard to read what she thought of me; yes, I don't have much experience, but I was honest about that fact, which should be a plus. I guess I'll find out what happens next by Monday.
ITEM!
The epilogue to the
Ember the Cat saga
is that after a weekend of alternating snoozing and pestering to go outside, we are letting her out again, but only in the daytime, when she doesn't seem to go as far as she does at night. Well keep her inside at night until she gets her shots and she gets "chipped", meaning she'll get an I.D. microchip implanted in her, thus making her evil according to the New World Order conspiracy theory types (hey, maybe we'll put a transponder in her as well).
ITEM!
For my annual
"I hate Daylight Savings Time"
post, I think I'll just link to
John J. Miller's National Review Online piece about how Daylight Savings Time is "deadly".
"But the very worst thing about DST is that it's bad for your health. According to Stanley Coren, a sleep expert at the University of British Columbia, the number of traffic accidents and fatal industrial mishaps increase on the Monday after we spring forward. (Check out one of his studies here.) The reason, presumably, is because losing even a single hour of sleep over the weekend makes a lot of people a bit drowsier on what we might usefully call Black Monday. Unfortunately, there's no compensating effect of a super-safe Monday as we go off DST and "fall back" in the autumn."
ITEM!
On Easter Sunday, my sister and her boyfriend came over for turkey dinner, and she announced that they were engaged, and she showed off her ring, which they went to four jewelry shops to get. That's pretty good news, I guess, though the wedding won't be until at least next year.
Also on Easter, I got a pack of three normal Cadbury's Creme Eggs and one of the large Cadbury's Creme Eggs eggs, though that's a bit misleading as the egg itself is a large hollow shell, with a pack of four of the mini-Creme Eggs inside. I didn't eat it all in one day, though. It took me until at least Wednesday. :P
ITEM!
Best April Fool's Day gags: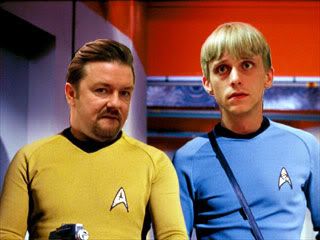 BBC's Star Trek remake.

South Park and Team America: World Police creators Trey Parker and Matt Stone to turn Enterprise into a marionette show, Team Enterprise.

(Both from the official Star Trek site, doing their usual April Fool's Day "thang".)

Fullmetal Alchemist on Teletoon's "Detour" billboard spotted in Vancouver. (though Jesse Betteridge showed me both Photoshops he did, the other being for FMA on YTV's "Bionix", but the Teletoon one looked a lot more authentic.)

"Communist Revolution in the United States"

"Apollo bacteria spur lunar erosion" (thanks Arxane)

Anime News Network's crop of April Fool's Day jokes this year are only alright... a bit on the silly side. I probably would have appreciated the "4Kids Licenses Ebichu" and the "Live-Action Eiken in Planning Stages" jokes more if I knew what Ebichu and Eiken were without having to look them up. Past April Fool's Day articles like "Anime Cable Network... coming from Microsoft!?" and Zero Wing: The Movie just seemed a little more plausible. The best anime-related April Fool's Day articles are the ones that are written mostly straight, like what I attempted to do with the Howl's Moving Castle wide release article I wrote earlier. It's like why Leslie Nielsen was a heckuvalot funnier in the first Airplane! and the first Naked Gun film, because he played it mostly straight instead of trying too hard to be funny like in his more recent crapfests like 2001: A Space Oddity.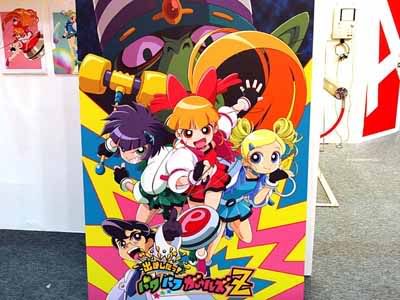 ITEM!
I'm waiting a couple of days before I'd react to this as though it is real, but there's a thread at Toonzone alleging that
an anime version of the Powerpuff Girls is on display at the Tokyo Anime Fair
.
Could be real, as
Time-Warner is co-producing new "anime" content for the Cartoon Network with Itochu
, or it could be a very well done April Fool's hoax, like the
reports about the new Project A-ko movie with all the hardcore lesbian content
that they took out of the original film.
If it's a hoax, they'd have to have had a couple of people in official-ish places mention the show on their website, but, on the other hand, I'm just a tad skeptical that the show is being called
Powerpuff Girls Z
à la
Dragonball Z
. The style is, of course, completely different from Craig McCracken's original designs, but it appears to have a similar wild energy.
My friend Mayukh will probably love it, as he's always looking for new
mahou shoujo
(magical girl) content.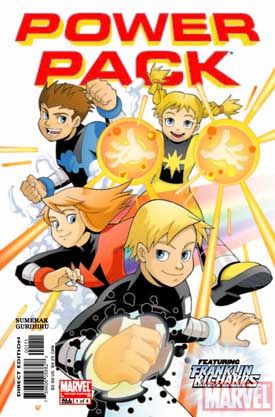 Speaking of Mayukh, since I mentioned
Marvel's Power Pack
as a sort-of-kind-of-American-magical-girl-comic once in passing, he recently made me do another Google search for it, and, amazingly enough,
there's a brand new version of Power Pack coming from Marvel
(and you can see a lot of sample pages on that site), only, this time, the Power kids are drawn in kind of a pseudo-anime style that looks like something about halfway between being anime and being an American cartoon
Kim Possible
, though that's fine. They're claiming the same stylistic halfway ground between America and Japan as
The New Teen Titans
cartoon, though I'm not sure why Alex Power seems to have been de-aged a couple of years from the Louise Simonson/June Brigman version of him I remember reading about when I was a preteen. (I talked about
Power Pack
a bit in the
entry for my eleventh year in my half-finished biography
.)
I wouldn't go out of my way to pick this comic up, but, if I happened to be going by a comic book store anyway, and I probably will within the next week or two, I'd consider picking up an issue or two out of a combination of curiosity and nostalgia.
Incidentally, I showed
this page, showing the way the Power Pack characters originally looked in the 1984 version
, to Mayukh, but Mayukh just found the character designs ugly, hurting my feelings greatly (just kidding, Mayukh).
Also, as I pointed out before, this is not the first time I've seen
manga-esque illustrations of Power Pack
.
ITEM!
Would you believe I started writing this entry early Friday evening at 6:52 p.m. (which will show up as 11:52 p.m., since I pretentiously set the time to Greenwich Mean Time), but it's now almost 2:49 a.m. on Saturday morning? So, I watched
Late Night with Conan O'Brien
, and he did have Pierre Bernard on, but it wasn't for a
"Pierre Bernard's Recliner of Rage"
bit. Pamela Anderson was a guest, and, just before she left, Conan asked her to fufill one of Pierre Bernard's dreams, for him to hold her in bed just for a little while. And then, on the main stage, there was a bed with red sheets and Pierre was wearing polo pajamas and Pamela went and got in bed with him. And, apparently, during the commercial break, Pierre was holding on so tightly that Conan had to pull him away. I guess I salute the guy.
Anyway, goodnight to all.