WHY WILL FANS OF DIRECTOR WES ANDERSON AND ILLUSTRATOR ERIC CHASE ANDERSON WANT TO GO TO THE BATHROOM?
(To look at this mural.)
I've been in a
creative
mood
lately (and I'm pleased to say that I'm over the mental "hump" where my drawing of Piccadilly Circus now looks more like a picture with a few blank areas rather than a large blank expanse with a few scattered elements drawn in), but it seems like I'm not the only Rotten Tomatoes forum member who has been keeping my hands busy in a non-perverted way.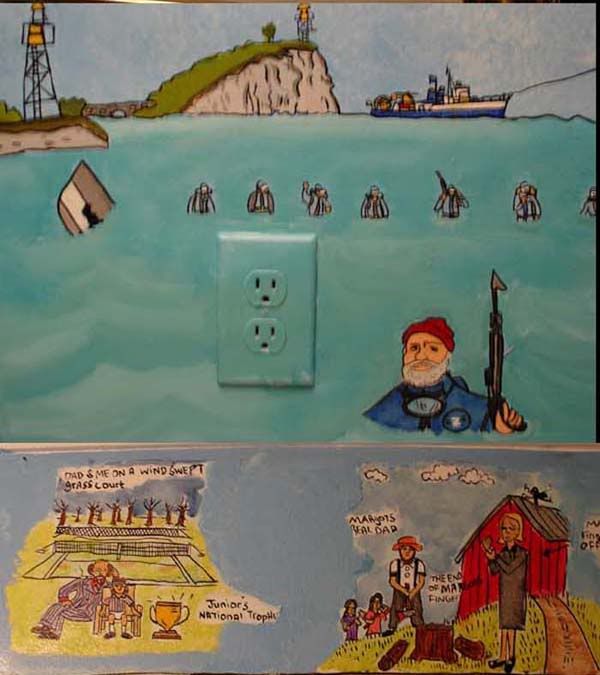 RottenTomatoes.com forum member
Lyra
, whose
Geocities account seems to indicate that her name is "Jill Crociata"
, has painted a bathroom wall mural with artwork mainly based on
Eric Chase Anderson
's illustrations for the DVD packaging, inserts, and menus for his brother Wes Anderson's films,
Rushmore
,
The Royal Tenenbaums
, and
The Life Aquatic with Steve Zissou
, as well as his own book,
Chuck Dugan is AWOL: A Novel with Maps
.
You can see a long (over 12000 pixels tall!) jpeg of various details from the mural
in this thread
.
In her own words:
"Hello, I've been working on a Wes Anderson mural based on Eric Andersons fantastic film and book paintings. My bathroom was just so drab and it was the only room available to paint. I had painted my room red in hopes of painting the dancing zebra some day.
Anyway, the bathroom was painted with a faux bikini and misty blue and the map area an atomic puke. I executed the Rushmore and Royal sections in liquid water colors and gouache. The Chuck Dugan and Life Aquatic sections were done in gouche. I added a few of my own Eric Anderson inspired paintings as well to help fill some of the space. I probably enjoyed creating a oceanic scene based on Chuck Dugan and the Life Aquatic the most. I might paint a few more fish later there are a few bare spots. Chuck Dugan is Awol is a recently released book by Eric Anderson it has already had its film rights snapped up.
I hope you like it"
Most of the drawings are re-drawings of Eric's artwork, but some, particularly for
The Life Aquatic
, for which Eric didn't provide quite as much artwork as for the previous films, are original drawings based on Eric's style.
I think she should do a token drawing or two based on Wes Anderson's first film,
Bottle Rocket
, the film that featured Owen Wilson and Luke Wilson's acting debut (as well as the eldest Wilson brother, Andrew Wilson), but, to the best of my knowledge, no Eric Chase Anderson artwork has ever been done for that film, since Sony's Columbia Tristar Home Entertainment so far seems to be unwilling to let Criterion do a special edition of
Bottle Rocket
the way that Disney/Touchstone let Criterion handle the special editions of his other three films.
So, if you visit her house, wherever it is (no idea), inside her bathroom you can pretend you're a character in a Wes Anderson film.
Just don't pretend you're Richie Tenenbaum with a razor...