AS MUCH AS I CAN PUT IN BY 3 P.M.
(Which would appear as 8 p.m. as I set the time index to GMT.)
I want to get to the anime club today in time so I can properly sign up, so I'll just put in mainly cut-and-paste jobs.
ITEM!
Wes Anderson's illustrator brother Eric Chase Anderson, who, as I mentioned
last week
, has illustrated another cover and inserts for the Criterion release of Wes Anderson's
The Life Aquatic with Steve Zissou
, has written and drawn a 224-page "illustrated novel",
Chuck Dugan Is Awol: A Novel With Maps
, set to be released on May 1
st
, 2005, from Chronicle Books.
"On the day of his eighteenth birthday, midshipman cadet Chuck Dugan receives a startling letter, including a treasure map drawn by his late father and news that his mother is about to marry a rogue and scoundrel known as "the Admiral." When the Admiral warns Chuck away from his mother, and the Admiral's sons attack the young cadet, Chuck leaps into action, going AWOL from duty to stop the wedding and find the treasure. So begins this delightful illustrated novel and the thrilling adventures of Chuck Dugan—heroic, resourceful, a great swimmer, and master of disguise. In each cliffhanging chapter, Chuck must grapple with a new set of dangers, from sunken ships and buccaneers to survival on open water and a final race to the treasure ahead of the Admiral and his boys. Illuminated throughout with detailed maps of places, people, and things Chuck encounters along the way, and written with an electric sense of derring-do and whimsy, Eric Chase Anderson creates a totally original and captivating hero, and a swashbuckling adventure story for all ages."
You can see a couple of sample maps and charts at
the Amazon.com listing
.
Just so no one's confused, by "illustrated novel", I think they mean a text novel with a copious amount of illustrations, not a "graphic novel", which is the term that comic book fans whom don't like calling comic books "comic books" use.
ITEM!
This didn't take long: urban legend-debunking page
Snopes.com
has
gotten wind of the false rumour (or, for you Americans, "rumor") about Napoleon Dynamite's Jon Heder dying in a car accident
and/or of a drug overdose (I hadn't heard that one) and has
put up a page entitled "Napoleon Die-namite" debunking the myth entirely
.
Barbara Mikkelson has an interesting theory about why this particular celebrity death rumour has "legs".
"Jon Heder is a Mormon, and popular culture regards the young male adherents of that religion to be particularly clean-living and upstanding. His sudden demise would therefore be regarded by many as a double tragedy in that not only would a promising newcomer to the film industry have been lost to the world, but so would a person of presumed moral fiber and virtue. All deaths are losses to be grieved over, but we are programmed to feel an especial sense of anguish over the passing of young people because their lives have ended before they've truly begun. This evocation of mourning gets elevated to an even higher level in instances where the short-lived decedent had already been dealt more than a rightful share of tragedy during his or her existence, or possessed talent now lost to the community, or was a singularly likeable or praiseworthy person.

In Jon Heder's case, while his talent and youth work to fuel the rumor of his demise, it's the presumption of a saintly lifestyle that gives it an extra push. Expiring in either of the manners described would tend to topple him from the pedestal widespread stereotyping would place him upon, and gossip so loves to feast on a fallen angel. Death by overdose of an illegal drug tends to be proof of illicit drug use, a hobby that would poke great holes in a choirboy image. Likewise, a young celebrity's perishing in a car crash gives off the aroma of foolhardy behavior on the part of the fellow called to glory — unstated yet worked into the fabric of the whisper is the supposition of the deceased's having been driving too fast, or in a reckless fashion, or having been under the influence of drugs or alcohol. More deeply buried in such hypothesis is the surmise that fame had gone to the lad's head, with success on the screen leading to fast cars and foolish living and ultimately a pine box."
I had previously written about
the Mormon connection to Naopleon Dynamite
, but I admit that the "fame corrupting a good Mormon boy" angle to this urban legend hadn't occurred to me. I suppose it's as good an explanation as any.
ITEM!
Just to do a quick top ten of 2004, in time for the Oscars tomorrow.
Just ranking, I don't have time to explain their placement (nor can I explain why I like some of these, I just do), and there are still some things I want to see, like Jeunet's
A Very Long Engagement
(which my "cousin once removed" or "second cousin" or however that works, Julien Lecat, shot the "making of" for), so this is by no means "final".
The Incredibles

The Life Aquatic with Steve Zissou

Shaun of the Dead

Sideways

The Aviator

Napoleon Dynamite

Spider-Man 2

Dawn of the Dead (remake)

Kill Bill vol. 2

Team America: World Police

Somewhat eclectic mix there. Overall, unlike a lot of people, I thought that 2004 was heads and shoulders above 2003 in terms of films. (Didn't care much for
Lord of the Rings
, sorry.)
PREDICTION:
Million Dollar Baby
, which Ebert gave momentum to, will win "Best Picture", but eternal Oscar bridesmaid Martin Scorsese will finally get "Best Director", so it will be a split that will send both Scorsese and Eastwood home each with one of the two most coveted statues (as Eastwood was also producer on
Million Dollar Baby
). And I don't think there's any doubt that
The Incredibles
will win "Best Animated Feature"; the other nominees are just formalities.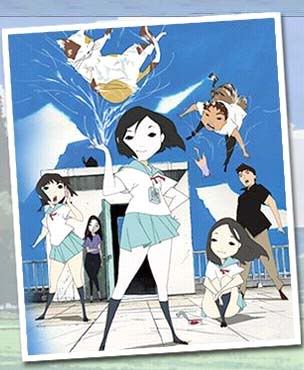 ITEM!
Since the
Oh My Goddess!
TV series has just been licensed, the current unlicensed anime (other than
Yokohama Kaidashi Kikou
, which is mainly a manga anyway) I want to see licensed the most is Production I.G.'s
Windy Tales
, as, while I haven't seen it myself, I can see that it has a unique visual style and which looks intruiging. You can read screencapped reviews of a couple of episodes
here
.
Unfortunately, this one won't likely be licensed for the same reason that
Yokohama Kaidashi Kikou
hasn't been licensed, either in manga or anime form: it's slice-of-life where the emphasis is on mood, atmosphere, and character interactions, rather than a continually advancing plot. These brief episode summaries seem to indicate that the show might be slightly less languidly-paced than YKK (I haven't seen it, so I wouldn't know), but it still doesn't seem like the kind of show more than a tiny sub-niche of domestic anime fandom would appreciate, and is certainly, even if it did get licensed, nothing you'll ever see on Cartoon Network or YTV.
And only 4 episodes appear to have been fansubbed as modern fansubbers would rather continue their little "pissing contest" of which fansub group can get the new episodes of "sure to be licensed soon shounen fighting show" on the Internet the fastest (since
Naruto
's now been licensed, that title is
Bleach
), rather than touching unique shows that dare to be a little different and which require some degree of patience to appreciate.
Ah, it's 3:15 p.m. Damn... Well, I'll get there soon after the start, not hours after.