"HELLO, POLICE? I'M BEING TERRORIZED... I'M BEING TERRORIZED BY THIS HORRIBLE DOLL!"
The
National Post
had an item about another "haunted" item being sold by an eBay
liar
seller, and this haunted item is something close to my own heart...
It's Stitch, the diminutive alien voiced by Chris Sanders who was the star of the Best Animated Feature of 2002
1
,
Lilo & Stitch
!
Since the
National Post
article is registration only, I will link you to
this Register (UK) article
about the item up for sale, but I'll just quote directly from
the sellers' page
.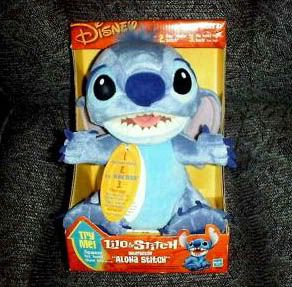 Since this thing is just much too long to quote in its entirety, the gist is that the guy and his fiancé, who live in Alberta, were visiting relatives in Florida, stopped by Disneyworld, bought several different Stitch dolls since they are such fans of the movie, and then stopped at another store
"We stopped at a little out of the way place while looking for a restaurant. This place was small, and kind of dingy, but they had food, and a 'gift shop', if you could call it that. I wish I could remember what it was called, but the only thing that seems to ring a bell is 'Leary'. Anyway, they had another Stitch toy there, which looked just as good as any we had picked up in Disneyworld, and was a quarter of the price. The person behind the till seemed a little too pleased to be making the sale, and now I can see why."
He comments that the shop owner seemed especially happy to be rid of the toy, and he soon finds out why.
"We displayed the toys on our TV stand, with some other stuffed animals my fiance has collected over the years. Nothing has ever moved them, except for when cleaning & dusting, and then they are promptly put back in place. After the new Stitch toys were put up, about once a week, we would find one or two of the other stuffed animals on the floor, on certain mornings when we would get up. Originally thinking nothing of the fact (we have a dog, who we thought maybe bumped the stand - more on him later), we would put the animals back up on the stand. This became a semi-regular occurance until early November, when we awoke to a loud slam in the middle of the night. I got my fiance to stay upstairs, and crept down to see what was happening. I had the light on at the top of the stairs, which meant I could not see clearly into the living room to see what had happened, but I did notice different things scattered on the floor. I turned the light on at the front door, and saw that the items on the floor were actually all of the stuffed animals, and other Stitch toys. The only thing left on our TV stand was the Stitch we had picked up from that store. That would have been enough, but the top of the TV was cracked as well - it looked as though something heavy had been dropped onto it. We still have no idea what happened there."
He fixes everything and throws out the toy, though he doesn't want his fiancé to be scared, so he tells her that it just became ripped when it fell off the shelf and he had to throw it out. Then, in the morning, he threw the garbage in the dumpster, thinking he'd never see the Stitch again.
"Later that morning, I got a call from my fiance, asking why I thought it would be funny to joke about throwing one of her stuffed toys away. I explained that I put it in the dumpster that morning, and she asked why it was still on the shelf. Both doors were still locked, and no windows or anything were broken. I left work early."
He had to tell his wife what was really happening, and they took it to a dumpster behind a Safeway supermarket, though it came back four days later completely clean.
"Trying to dump the Stitch in different places, on the other side of the city, etc. became a regular thing. Since no one believed us when we tried to tell the story, there was nothing else we could really do. Thankfully, neither my fiance nor I were seriously hurt at all - the only injury worth mentioning was it had tripped me (as far as I can tell) as I walked down our front steps one day. I didn't notice it there when leaving the house, and I definitely caught my foot on something, and when I turned back, it was there. Thank god I only got a scraped knee & palm."
Just before Christmas, he buried Stitch in a landfill, and Christmas was quiet, but the doll was back with a vengeance just after New Year's.
"In the early evening on a Thursday, I let our dog outside, just as we normally do all the time. After he had been outside for about 10 minutes, I thought maybe he had found some food, or something else to eat, as he usually does. I looked outside, and saw him laying in the snow, and he wasn't moving. I ran outside, and grabbed him, and noticed the Stitch toy laying beside him. Our dog was breathing, but unconscious. I rushed him inside, and called the vet. We were able to take him to the emergency clinic, and after examining him, we were told that they could notice nothing actually wrong with him. It appeared that he had just passed out, but his blood pressure was extremely high, and he was still having problems breathing. They kept him overnight for observation, which was good, because I wanted him kept as safe as possible.

When we got home, we decided to burn the toy in our fireplace, but we could not get it to light. We even tried lighter fluid, but as soon as it touched him, it was completely absorbed - he did not feel damp, and did not smell of the fluid.

If we could not burn it, we would incapacitate it. I grabbed a pair of scissors, and cut off each arm and leg, and the head. I took the 6 pieces, put them in a garbage bag, tied the top, and put it outside on the front step, to get rid of in the morning."
Wait, what does he mean "six pieces"? Shouldn't he mean "eight pieces", since Stitch actually has four arms, just like the original version of Grimace?
2
"The next morning, I went outside to get the Stitch, and the bag was gone. I could not find it anywhere in our yard, or the parking lot. I went back inside, and there it was. The toy was back on the TV stand, and it looked like it had never been touched. Not a speck of dirt, not a rip or tear on it.

I grabbed the toy, ran to the car, went downtown, and ran into the first pawn shop I could find. The owner said they did not take used stuffed toys, as they can be dirty. I told him that he could have it for free - I just did not want it. He started to ask why, but I left it on the counter, and ran out of the store. I thought maybe if someone else were to buy it, it would stay with them, and away from us."
Fenruary was a quiet month, but, just like
Ember
, Stitch was bound to make a reappearance sooner or later.
"2 days ago, it came back. I opened the front door to go to work Monday morning, and it was sitting on the front step, facing me. I put it in the house, pinned under our TV, and told my fiance about it, and to leave the house as fast as possible.

After discussing what to do for a few days, we have decided that we really have no other option than to try and list this on eBay, and get it as far away from ourselves as possible. We do not want to send it to someone who is not expecting it, and we want to send it to someone who is asking for it, this is why the opening bid is $0.01, and there is no reserve. We just want to get rid of it. Thankfully it has stayed under the TV up till now, with no real signs of change. I don't want to sound like a wuss, but this bear is the scariest thing I have ever experienced, and I am a horror fanatic. It may look like a regular stuffed toy, but it's evil."
He then adds this warning.
"Please, if you have children or pets, think twice before bidding. This is not a 'toy' for a child. I can not say with any assurance that you will have the same experiences as us, but there is a strong likelyhood that you will see what I mean, and I do not want to feel any guilt for harm coming to a child or an animal."
Yeah, I'd believe this more if this story wasn't an eerie mirror of Reginald P. Linux's own harrowing experience in Rich "Lowtax" Kyanka and Kevin "Fragmaster" Bowen's masterful horror tale of harrowing suspense, 2003's
Doom Hose
Doom House
, since, of course, that was the first "movie" or any other form of fiction to feature an evil doll who keeps on returning no matter how many times it's destroyed or disposed of.
So
"Garbageguy2"
might just consider taking the
terrorist
cop's helpful advice:
Cop: Hey, what are you still doing here? I told you to clear... out of the Doom House! Do you want to have... this horror?
Reginald P. Linux: Doom House?
Cop: Yeah, Doom House. You know that creepy doll? It's part of the Doom House mystique, and you've got it in spades, so you'd get out... (something garbeled, sounds like "i'dtah") my advice as an officer of law.
Reginald P. Linux: The doll that won't let me sleep? That doll?
Cop: You seem like a man of many words, but let me tell you this, how about? If you don't move out of the Doom House, it could spell your doom.
Reginald P. Linux: Doom House?
Cop: Yeah, doom!
Reginald P. Linux: Doom House?
(The cop just leaves, though he helpfully takes the door-blocking thingy and puts it in the door so the cat can't get out.)
Finally, I'll add that, if he's got a possessed doll that keeps on returning, I'd also suggest he'd be on the lookout for baggies, as baggies are incontrovertible evidence... evidence of a DOOM HOUSE!
EDIT:
Forgot to mention, the bidding on this thing is at $11 000 and rising. I would not be at all surprised if a certain Montreal-area asshole spyware-infused online casino whose name I won't mention as I'm not playing into their free publicity game turns out to be the top bidder.
And why are all the articles I've read about this referring to Stitch as a "teddy bear"? Stitch isn't a bear, he's Dr. Jumba Jookiba's "Experiment 626" and resembles a blue chihuahua, not a bear. Everyone knows that. "It's common knowledge for Gals!" Idiots.
1
Best Animated Feature of 2002 according to me and the Las Vegas Film Critics' Society. Everyone else, including "Oscar", voted for the bloated, unfocused, and overrated
Spirited Away
, bah!
2
"Four-armed Grimace"
a.k.a.
Evil Grimace
, who terrorized a young Jodie Foster by stealing all of the cups from McDonaldland, forcing Ronald McDonald to disguise himself as a mailman to trick "E. Grimace" into thinking he's been accepted into a beauty contest, and Ronald, Jodie, and the boy-who-never-grew-up-to-be-anyone-important take the cups back whilst Evil Grimace puts on a dress. You can trace the evolution of Grimace, who is the character who represents "milkshakes", by the way,
on this page
, though be aware that there is some leftist anti-McDonald's claptrap.