I SAW "DOCTORS" ON TUESDAY AND WEDNESDAY!
Part One: Tuesday
("Part one" is another article that I initially started writing as an "aside" but which grew to a point where I think I'll split this article in two and write what I was going to write later. But, come to think of it, the other half of this article probably won't be written until tomorrow as I have something half-written I started on Monday that I really should finish writing.)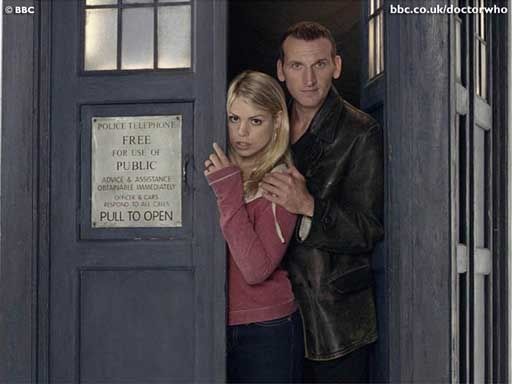 On Tuesday, the second episode of the
new Doctor Who series
aired in Canada on the CBC and I must say, two episodes in, this show is the finest piece of pure self-conscious cheese I've seen on television since... umm, nothing more recent than
Jack of All Trades
is coming to mind right now. I don't want to say too much for the sake of those of you Americans who have to wait to watch it, but Tuesday's episode took place aboard a space station orbiting Earth... five billion years in the future, and various VIPs had been invited to an exclusive social event of the eternity, front row seats to watch the sun expand to a red giant and engulf the Earth. (I'd say that the premise of the episode was obviously very, very inspired by
"Milliways", the "restaurant at the end of the Universe"
from
Hitchhiker's Guide to the Galaxy
, but this is, of course, impossible.)
Anyway, you see a menagerie of aliens, mostly people in costumes and makeup that is similar to the more elaborate alien creature effects from
Star Trek
or
Babylon 5
, but the
pièce de résistance
was
"Cassandra"
, the last human in the universe (excluding Rose Tyler (
Billie Piper
), who was brought forward through time from the present by the Doctor (Christopher Eccleston) to witness the event), who was several thousand years old. But she's human in name only; she's had so much plastic surgery, to the point of having her skeleton removed, that she's just a large flap of skin stretched out on a metal frame, so she resembles a trampoline with a human face (except, unlike a trampoline, she needs to be moisturized by her two assistants every few minutes, otherwise she dries out and dies). I thought this character was just going to be a brief sight gag who wouldn't be onscreen for more than half a minute, but, no, she's in the entire episode. Now, if you're taking the show at face value and thinking about that character critically, of course, she makes no sense; why would a human being have her entire skeleton removed, rendering her completely helpless? And, why, five billion years later, are there creatures that we can still recognize as human (yes, she's a sheet of skin, but, at one point in time, a few thousand years prior, before all the cosmetic surgery, she was a regular bipedal vertebrate), and why hasn't English, in the unlikely event that it's still around as a spoken language in some form, evolved over five... umm... "billenia" (probably not a real word)? But, if you appreciate the show as fine cheese, then the more absurd something is, the better. It's the
"Limozeen Cartoon Justification"
:
STRONG BAD: Oh-ho-ho! So classic!

STRONG SAD: But why are they in space? There's no reason for them to be in space!

STRONG BAD: On the contrary, my dear Fatson! There's every reason for them to be in space.
I mean, we're not meant to take this at all at face value, I hope. She's a bloody talking trampoline, fer crissakes! But, as cheese, it's simply brilliant. Just like the killer mannequins on the first episode (and that one scene with the London Eye ferris wheel). Unfortunately, I don't know if the older incarnations of
Doctor Who
I watched on TV Ontario circa 1984, mainly episodes with
the fourth Doctor, Tom Baker
, but also the early episodes with the
fifth Doctor, Peter Davison
. I do remember being legitimately frightened by the episode
"Time-Flight"
, the one when the evil Time Lord called the Master takes the Concorde into prehistoric times for some convoluted reason, and most of the passengers and crew are under some sort of hypnotic illusion that they had landed safely in London, even though it's some sort of misty island (that's like a really bad
Star Trek
set), but the thing about that episode was, apparently, that the production values were so low and the plot was so ludicrous that
"Time Flight" is widely considered to be one of the worst episodes in the show's history
. The thing to remember is that I was only about nine or ten at the time and had difficulty recognizing when something is not meant to be taken seriously. The Vogons in
Hitchhiker's Guide
also scared the shit out of me at that age, and I thought
Airplane!
was a serious disaster movie first and foremost that just happened to have a few funny scenes. So, now that I watch the new
Doctor Who
with an adult eye, I recognize that much of it is very tongue-in-cheek goofy, but I'm not sure if it's any more goofy than its predecessors. It certainly has a higher budget, though. That's one thing you can say about it, with a lot of expensive location shoots around London and almost movie-quality CGI (though I am pleased to see on the official site that, when a certain landmark gets trashed in an upcoming episode, it's mostly a practical model effect, not completely computer graphics). I suppose the Tardis being shaped like a "police box" phone booth and K-9, the robot dog (plus, in some episodes, Aldric, the boy sidekick with the most blatany subtext this side of Robin) should have clued me in that I wasn't to take this show quite as seriously as, say, the sobering Russian sci-fi film
Solaris
.
My biggest disappointment is that they don't show the tacky headshot of the current Doctor with the glowing border during the opening segment like they did for the Baker and Davinson episodes.