ZOMG! TEH GAY SUBTEXT!
In this week's Strong Bad e-mail,
"do over"
, over at
Homestar Runner
, there's actual gay subtext! It's undeniable!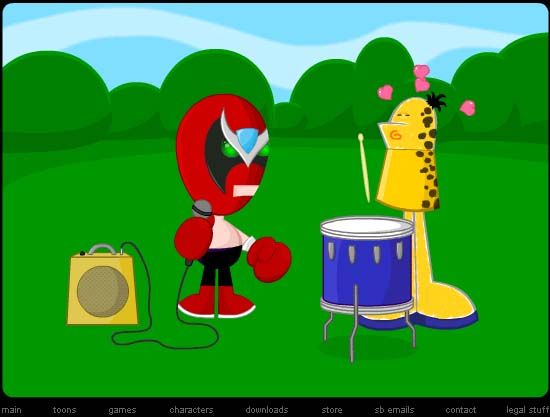 Homestar Runner ("Surprise! Strong Bad, it's me! Homestar Runner! From school!"), for no discernable reason, dresses up as The Cheat to help Strong Bad redo a couple of his e-mail "Stnanks" (what he calls mistakes), and, for the "do over" for
"sisters"
(sbemail 35), Strong Bad sings a ballad to "Ali and Ali's Sister", a song whose lyrics are so romantic ("Don't you know I have a BIG OL' RED HEAD! And a fat little body! And I never change my cloooothes!") that even Homestar can't hide his attraction to Strong Bad any longer. And, just to add a little more ambiguity to the mix, I should point out that this scene may actually be taking place within Strong Bad's imagination, so Strong Bad's imagining Homestar dressed as the Cheat falling in love with him. How Freudian!
I'm expecting to see Homestar Runner/Strong Bad slash fanfics and yaoi artwork to be hitting the web any day.
And don't get me started on Marzipan kissing the Cheat in the Easter Egg. But I wouldn't be too quick to play the "bestiality subtext" card, as I'm not sure that Marzipan and company are even supposed to be human.
Another terrific detail was the
Coach Zed
Easter Egg, wherein
Coach Z
is drawn like Snoopy's brother Spike from
Peanuts
, with the fedora and the scraggly mustache and the parallel line shading on the feet. "Coach Zed" is supposed to be the Canadian version of Coach Z, and I've inadvertently called the character, whose name is meant to be pronounced "Coach Zee", the American way, "Coach Zed" a few times myself, so Strong Bad just made the alternate pronounciation "official".
Oh, and
Stinkoman 20X6
, the
Megaman
parody videogame with the anime-ized version of Strong Bad from
"japanese cartoon"
, has added a sixth level, called "Token Cloud Level", making fun of the near obligatory level with the walkable clouds that all 8-bit and 16-bit platformers seemed to have (
Wonder Boy
had a particularly infuriating one, if I remember correctly).