MADAGASCAR: A JOURNEY TO AN ISLAND YOU'VE BEEN TO BEFORE...
Directed by:
Eric Darnell & Tom McGrath
Writing credits:
Mark Burton & Billy Frolick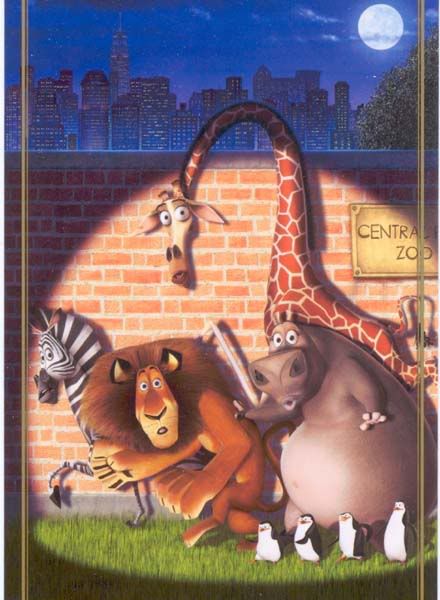 Last summer,
Dreamworks Animation and Pacific Data Images
' follow-up to the inaugural Best Animated Feature winner
Shrek
, the imaginitively-titled
Shrek 2
, caught fire at the domestic box-office, earning over $436 million, becoming the highest-grossing animated film of all time in America and also becoming the number one film of 2004. Then, they followed-up on the success of
Shrek 2
by attempting to get America to fall in love with an animated lion... and failed horribly, with the poorly-received animated series
Father of the Pride
, an expensive dud for NBC and Dreamworks/PDI. NBC continued to flounder in the ratings, but Dreamworks/PDI got their mojo back with
Shark Tale
, which earned well under half of what
Shrek 2
made at the domestic box-office, but still managed to net $160 million, which is an excellent take for an animated film released outside of the traditional "summer" and "holiday" seasons, when the vast majority of animated films are released. Now Dreamworks/PDI has gone back into the lion's den hoping to crown a new king of the animated jungle with
Madagascar
, though this time they leave the computer-animated versions of Sigfried and Roy back at the Mirage hotel, and, instead of John Goodman's pudgy Larry the Lion, we get a much svelter leonine model, with the voice of Ben Stiller.
Alex the Lion (Stiller) is on top of the world, the star attraction of the Central Park Zoo, which, in the universe of
Madagascar
, has alarmingly low walls separating Alex's carniverous fangs from the childrens' succulent tender flesh. But Alex's natural instincts have been long muted with daily steaks, the thing he loves best in the world other than the adulation he gets from kids and adults alike. He has no reason to want to leave the pen, unlike Marty the Zebra (voiced by Chris Rock), who longs to run free in the open grasslands and frolic in the jungles of a place he doesn't know but sees represented on a mural. After Marty breaks free to take a trip to this mysterious land he heard about called "Connecticut", Alex along with Melman, the hypochondriacal giraffe (David Schwimmer), and Gloria, the-not-too-interesting-token-sassy-female-character-who-is-to-filmic-endeavor-approximately-what-Lola-Bunny-was-to-
Space-Jam
hippopotamus (Jada Pinkett Smith), go on a search through the streets of Manhattan for him.
Adbusters
magazine-reading types might, as usual, whinge about the preponderance of Coca-Cola, Cadillac, and Hewlett-Packard logos in Times Square (and, I presume, the absence of hammer-and-sickles and giant portraits of Ché), but... it's fricking Times Square, product placement central. It would be weird not to see logos, and fake logos are distracting. They meet up with Marty in a lovingly-detailed Grand Central Station, but not before attracting whole squadrons of policemen, animal control officers, and a tough old lady. The four rogue animals are tranquilized, represented by a psychadelic segment that got
20% lopped off the Drugs/Alcohol "thermometer" on Thomas A. Carder's WISDOM scale
, and shipped off, in crates, to a wildlife preserve in Kenya. (
"We're gonna see lions! Only in Kenya. Come to Kenya, we've got lions!"
). But, en route, the freighter ship they're on is hijacked by four wiseguy penguins, who also escaped from the zoo, and, when they turn the ship around and point it towards Antarctica, the crates containing the four big mammals get knocked overboard, and they wash up on the shores of Madagascar, which, in this film, is still a paradise, mysteriously underpopulated by humans, that isn't an
ecological hellhole that has been almost scraped bare by slash-and-burn farming
. Marty is elated to find an island that is exactly like his dreams, while Alex would rather work towards efforts to attract the attention of passing ship (of which there are very few, for some reasons), and they split the beach down the middle, in an intentional reference to bad sitcom episode premises (though
South Park
already did the same metatextual reference two years prior). After the P collapses into an L in a giant "HELP" made out of logs (hey, Thomas A. Carder, how come you didn't mention the giant "HELL" as an "Offense to God"? You're slippin', man!), Alex decides to join the others and try to make the best out of the situation, eventually befriending a tribe of simple-minded lemurs who love to party, led by the Rasta-talkin' King Julien the 13th (Sacha Baron Cohen/"Ali G"), who worship the new arrivals as the "New York Giants" and who want them to defeat the mysterious ravenous predators called the "Foosa" (really
Fossa
, which look like a cross between a dog and a cat but which are actually distant relatives of the mongoose). And, speaking of ravenous predators, hippopotami, giraffes, and zebras are fine eating the native vegetation, but what about Alex the Lion? How is he going to cope when there are no steaks, and his friends seem like the only decent eating around?
Madagascar
starts out of the gate strongly, with a picturesque New York, with foliage in full autumnal splendor, just the way New York looks in my dreams, and a lot of funny gags, most of which aren't too reliant on pop-culture references, which are fine in moderation, but films with too man, often quickly dated in-jokes reeks of the writers trying to make the film seem a lot more clever than it actually is to cover up the weaker sections of the storyline, and you end up choking on the self-congratulatory smugness (
*coughcoughshrekcough*
). I especially liked Alex's intimate familiarity with his own merchandise, which reminds me very much, though this is probably just an unintentional coincidence, of that hilarious scene in episode 100 of
Sailor Moon
(
Sailor Moon S
),
"Retire from the Sailor Soldiers!? Minako's Concerns"
, wherein Minako Aino (Sailor Venus) excitedly tries hawking a multitude of "Sailor V"-branded products
1
whilst the other girls are trying to study. I also loved Chris Rock's throwaway line, politely reminding people
not
to spay or neuter their pets. I doubt Bob Barker would appreciate that joke, but I'm not him.
Disappointingly, while the film never completely falls flat, the majority of the energy and spectacular visuals are in the first third of the film, in Manhattan and on the boat. Once the crates hit the beach, you get a feeling of familiarity, like you've seen it all done before. Like the tribe of stock happy-go-lucky natives who worship the newcomers as Gods. Dreamworks themselves did the same general set-up only five years ago in the severely underrated, at least for
Chel
-value,
Road to El Dorado
, and the same situation was also used, to a lesser extend, in Disney's
Atlantis: The Lost Empire
the following year. The band of outsiders who the locals hope will help them fend off a ruthless or abusive foe?
A Bug's Life
. And the main plot, about a natural predator trying his best to overcome his natural instincts and not eat his herbivorous allies? Been done both in
Ice Age
and
Finding Nemo
, except at least in
Nemo
, it was a B-plot. Not that I'm saying that those films were, by any means, the first to use those kinds of situations, I just wanted to use examples of American animated films from within recent memory. At least there's no damn clichéd dance sequence at the end, unlike
Robots
.
I did like the look of the film, particularly how the animators weren't afraid to *not* push the envelope and try and make everything look super-realistic, instead creating an appealing and internally-consistent style that is a little more abstract, angular, and cartoonish than
Shrek
was. With theatrical 2D animation currently out of fashion with North American audiences, it's nice to have CGI creations that at least recall, to some degree, their paint-and-acetate forebearers. The ocean looked spectacular, both the mid-oceanic tidal surges, and the shallow water lapping at the sandy beach, but we've already seen spectacular-looking water in
Finding Nemo
. The jungle looked okay, but was a lot more monotonous than the city scenes.
Also, allow me one minor geeky nitpick. This movie shows Antarctica as being, according to the onscreen caption, 2000 miles south of Madagascar. According to my Atlas, in real life, the town of Ambovombe, on the southern tip of Madagascar, is located at about 25ºS, 46ºE. 2000 miles south from there would be just a mile or so north of 54ºS, 46ºE, in the middle of nowhere in the southern part of the Indian Ocean. According to my cheap-ass
Collins Paperback Atlas of the World
, at around the 46
th
meridian is the far eastern part of Droning Maud Land of the Norweigan Dependency, a degree or so west of the border with the Australian Antarctic Territory, and, at that meridian, the coastline hugs the Antarctic Circle, at about 66º50'S. So, the penguines would have to take the ship another 900 miles south of where the caption says to be able to eat frozen sushi.
Madagascar
is harmless animated summer fluff that's worth watching once, if you're adult animation enthusiast, but is nothing I'd consider essential to your DVD collection, unless you have children. It will certainly rule the animated box office this summer, but that will be due to a near total lack of competition, other than the limited release of Hayao Miyazaki's
Howl's Moving Castle
, due to Disney pushing
Chicken Little
back to November, to fill the hole in their autumn release schedule left by Pixar's
Cars
. Since most of the most entertaining parts are concentrated towards the beginning, I'd say this is one animated film that, like March, comes in like a lion, and goes out like a lamb.
***½/*****
1
One thing has always bothered me about that scene: Minako Aino's identity, as Sailor V and Sailor Venus, is secret. And, between the pressures of school, saving Tokyo, and looking for love, Minako probably does not have too much spare time. So, where does that merchandise come from? I doubt she makes it herself, and I don't recall Luna ever giving her an arcade machine that automatically makes the merchandise for her. Does she have some sort of licensing agreement with the companies that produce the merchandise? If so, who deals with her and how does he know her secret identity, because it's not like it's easy to enter into a legally-binding contract with an individual who has no legal identity. And, if she had nothing to do with the production of the merchandise with her likeness on it, why is she so happy to promote what is technically bootlegged merchandise? I need answers.