EH, I'M HAPPY MY GUYS WON.
Hooray for Prime Minister Steve!
Canadian voters give the Liberals PMS by electing "Prime Minister Steve" with Stephen Harper's Conservatives being elected to power with a minority government.
From CTV News:
"Canadians granted Conservative Leader Stephen Harper a minority government Monday, putting an end to more than 12 years of Liberal rule.

Results show Conservatives won 124 seats, versus 103 for Paul Martin's Liberals.

"Tonight, friends, our great country has voted for change," the prime minister-designate told a crowd of supporters at his home riding of Calgary Southwest.

"And Canadians have asked our party to take the lead in delivering that change. Tonight I am saying to all Canadians that we will respect the trust you have given us, we will keep our word, we will honour that trust, we will deliver on our commitments."

Harper then reached out to the regions, repeating a campaign promise to solve the fiscal imbalance and promising to let the Atlantic provinces keep their offshore resource money.

The West, he said, will now have the voice in Ottawa it has long sought.

But Harper fell short of the 155 seats needed to lead a Tory majority, meaning he'll have to wheel and deal and curry favour of at least one opposition party to support him in the 308-seat House of Commons.

The Bloc Quebecois won 51 seats, while the NDP took 29 -- a double-digit gain from the 2004 election. All four major party leaders won their ridings.

By the end of the night, the Tories won roughly 36 per cent of the popular vote nationwide, compared with 30 per cent for the Liberals, 17 per cent for the NDP and 10 per cent for the Bloc."
Woo-hoo! This makes Prime Minister Stephen Harper the second best Steve in Ottawa (yes, yes, "Prime Minister-
designate
Stephen Harper for now)!
This is the first time I've ever voted for the winning party in either a federal or provincial election, and it's also the first time that I've ever helped to elect a local MP (congratulations to Ottawa West-Nepean MP-elect John Baird)!
Am I happy that Stephen Harper won? You betcha! Is it an ideal win? No, it's not a majority. But I didn't think a Conservative majority government would be a realistic outcome this time around, so the Conservative blogs that were making out that a majority was within their grasp kind of overdosed on the hubris. I'm not basing my happiness on what might have been, I'm basing my happiness on the outcome compared to what I thought would (or, rather, wouldn't) happen two months ago, when any sort of Conservative government still seemed like a pipedream.
And I'm particularly pleased about Quebec, where I didn't think a Conservative breakthrough was possible in the current climate. I guess I, just like a lot of real pundits, underestimated the electoral power of federalist Francophones who don't like the Liberals and who might hold their nose and vote for the Bloc Quebecois, even if they don't believe in the idea of unilateral Quebec independence. I thought the higher poll numbers for the Conservatives in Quebec would be like the ADQ's, that is they'd either be concentrated in Mario Dumont's home riding and one or two others, or that they'd mostly evaporate come election day. But they went on to win 10 ridings, most of which would have otherwise gone to the Bloc, which actually lost 3 seats and 1.9% of the vote compared to 2004, snatching away the record seat count and 50% plus one share of total Quebec voters that Gilles Duceppe was hoping for. So, Gilles Duceppe, while you still won the province overall, for being denied the huge gains you were initially predicting and the majority vote for a sovergnist party, which I'm sure you would have taken for a "winning condition" if it had materialized, Nelson Muntz says "Ha-ha"!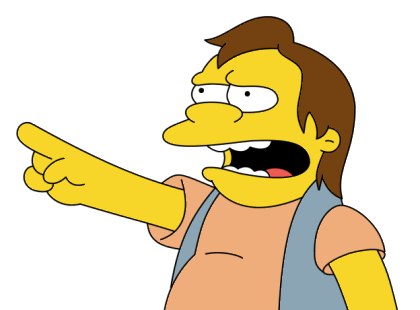 Oh, and, in Vancouver-Centre,
NDP candidate Svend Robinson's political comeback was foiled by an easy win for Liberal Hedy Fry
. So I guess Svend "Gollum" Robinson now has ample free time to pursue his favourite hobby, snatching rings from jewelry stores. ("My precious! My precious!") So, Svend, because Vancouver-Centre failed to find a guy who stole a ring worth $24500 to be electable, Nelson Muntz says "Ha-ha"!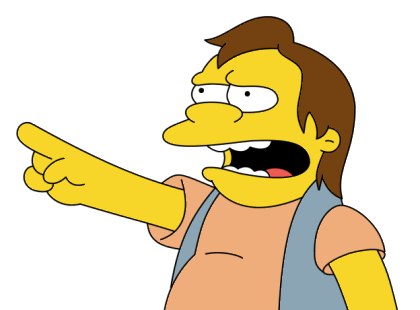 Oh, and,
Michael Moore
, about whom I thought
"I hope he can see this, because I'm doing it as hard as I can."
while I was voting, for failing to influence the results of the Canadian election, Nelson Muntz says "Ha-ha!"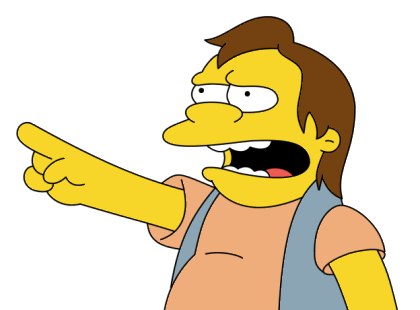 Really, the only downside to last night, as far as I'm concerned, was that the Bloc Quebecois's Meili Faille got re-elected as MP in Vaudreuil-Soulanges, which I still consider to be my "home riding", even if I voted in a different riding this time around.
National Review
has several items about the Canadian election, including
this piece by David Gratzer that is a "Coles Notes" version of the fall and rise of Stephen Harper
, after many people thought he was down and out after the crisis of his initial failed confidence vote last spring, and
Doug Gamble says that this was the "Excuse Me revolution"
, saying that Canadian "voters were saying, 'We want to give you a try but we don't really want to hurt the Liberals' feelings.'"
Unfortunately, our man at
National Review
, David Frum, has taken a leave of absence while he writes a book, and will not be back until March, so
he hasn't updated his NRO blog since November
.
Meanwhile, for right-minded readers on the other side of the Pacific,
Mark Steyn tells Australians that, while Stephen Harper is not quite Canada's Ronald Reagan or Margaret Thatcher, he could be considered "Canada's John Howard"
.
And, back in the States, Rush Limbaugh took a call from Pierre in Quebec, a federalist Francophone who likes listening to Rush Limbaugh (which means, since I'm not there anymore, Pierre must be the smartest guy in the province), just to know what Rush thought of the Harper victory. I don't currently have Rush 24/7, but Rush said that he expected the Liberals to behave like the Democrats after they lose, meaning the Liberals will act as though they're still in power. I know Rush probably doesn't know all that much beyond the bare minimum basics about Canadian politics, and I don't want, need, or expect him to talk about Canada all that much, and he was probably taking somewhat of a shot in the dark there with that prediction, based on broad generalities, but I saw a bit of that watching CTV News, where Liberal MPs, winners and losers, were speaking as though the Conservatives don't have a mandate, and that's somewhat true, since Stephen Harper will have to make deals with other parties to curry support so that the government doesn't fall, but it's still a lot more of a mandate than the Liberals have, since the Conservatives won and the Liberals lost.
We'll have to wait and see what happens in Parliament, since I know the government is fragile, but, for now, I'm just happy to have voted for the winning team, for once in my life.