LOCAL LOSER GETS ARRESTED IN PLAYSTATION 3 KERFUFFLE.
Fights and riots break out all over North America as asshole scalpers hoping to score between $1500 and up to $10000 U.S. and beyond on eBay and one or two honest-to-goodness big-spending actual gamers lined-up at "Big Box" electronic stores everywhere to buy the first intentionally limited in number for maximum media hype and presumably glitch-infested PlayStation 3 units to hit stores.
From CBC News:
Police in Ottawa arrested one man on Thursday night as lineups for the new PlayStation 3 game console turned ugly.

Ottawa police said one man was arrested in the west end after fights broke among people waiting to be among the first to pay $659.99 for a console when the store opened at 8 a.m.

Gamers lined up outside stores across North America last night ahead of the Friday morning launch of Sony's new gaming console. Some of those lineups, including in Ottawa, were the scenes of injuries and altercations.

Police were called to the Merivale Future Shop at about 2 a.m. Friday, where many people had been waiting in the rain for hours for a limited number of available consoles.

Police said those involved in the altercation were removed and were not permitted to rejoin the line.

MERIVALE ROAD

FUTURE SHOP

, REPRESENT, YO!
To the
ne'er do well
who got arrested, Nelson Muntz says "Ha-ha!"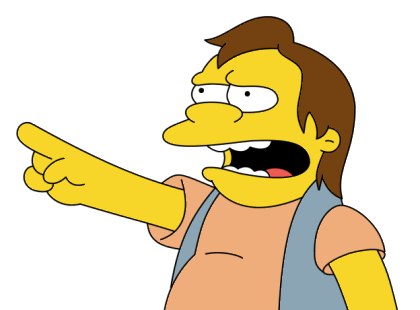 Merivale Future Shop (and Merivale Best Buy) is also mentioned
in this Ottawa Sun piece by Jorge Barrera
:
They gathered in the dozens for hours under tents covered by plastic tarps on the rain-slicked sidewalk outside hi-tech big box stores across the city for today's release of PlayStation 3.

But many didn't do it for the love of gaming. They did it for the money.

"I'm not interested in the actual thing. I'm interested in the money," said A_____ J____, 20, who was waiting outside BestBuy on Merivale Rd. "You can get $1,000 to $1,500 for it on E-Bay."

There were only 26 PS3 consoles for sale at the BestBuy store and last night there were 26 people lined up on the sidewalk. Next door at the Future Shop, there were only 12 consoles in stock, but 16 people waiting.
(I dashed the name of the scalper mentioned in the piece, since... I don't want to hear from him.)
Come to think of it, to everyone else locally in Nepean who waited in line in last night's foul
November Rain
, Nelson Muntz says "Ha-ha!"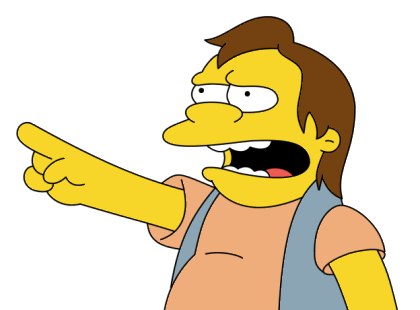 I'll probably buy my PlayStation 3 from either the Merivale Road Future Shop or the Merivale Road Best Buy stores... but that won't likely be until around 2010, by which time the price of the PS3 would have dropped significantly, like to around $200 Canadian, and by which time most of the good games will already be available in "Greatest Hits" editions for below $30 Canadian, or used at
EB Games
for less than $20 Canadian. Since I only got a PlayStation 2 last Christmas, I still have the best part of half a decade's worth of video games for me to tide me over until then.
So far, the only thing about the PlayStation 3 that I find enticing is that
Gran Turismo HD
will finally feature
a few licensed Ferrari cars
, the F430 and the Ferrari 599 GTB Fioriano. But that game isn't even a launch title and won't be out for a while and I would not be surprised if they release a downgraded version on the Playstation 2 as
Gran Turismo 5
. And I may eventually get an (old) XBox, so I can drive Ferraris in
Project Gotham Racing
and
PGR 2
and
Forza Motorsport
, not to mention the fully-licensed Ferrari games I already own,
Out Run 2006: Coast 2 Coast
on the Playstation 2 and
F355 Challenge: Passione Rossa
on the Sega Dreamcast.
For Google Image Search ranking purposes,

The Merivale Future Shop (and Best Buy) at night...
The interior of the Future Shop on Merivale Road in Nepean.
Merivale Road Future Shop and Best Buy in Nepean.
Labels: Canada, Future Shop, Merivale Road, Nepean, Ontario, Ottawa, Playstation 3, PS3